Fiction Sneak Peek: Dec. 2, 2017 issue
---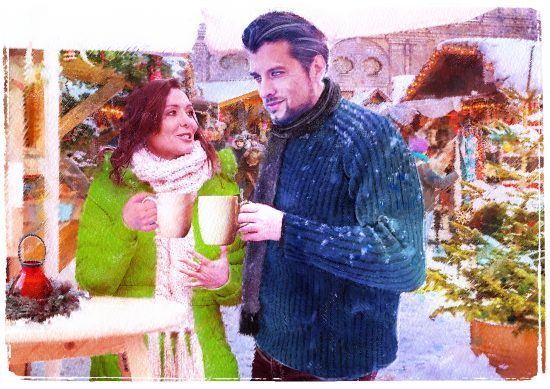 Illustration by Jim Dewar.
A Christmas market in Berlin is the festive setting for "Merry And Bright" by Jacqui Cooper. It's where Genevieve meets Axel – and then they part…
In "The Pageant Play" Annie Harris has reimagined the creation of the Coventry carol. It's a lovely story, now featuring Alice and her father's young apprentice. Illustrated by Ruth Blair.
I love our next story! It's "Three Wishes" by Nicola Mostyn and features a genie and a lamp…It's fabulous fun. And our own Sarah has done us proud with the illustration.
From silly to sublime and "A Solitary Song" by Susan Sarapuk. (That's a lot of alliteration!) The "song" is that of a blackbird that Megan finds offers comfort and inspiration. A beautiful story, this, illustrated by Sarah Holliday.
In "Party At The Cat Café" by Suzanne Ross Jones, Maxine's birthday's a good excuse for our latest visit. And yet it's not the reason for the celebrations. What's that about? Read it and see!
We ping back to 1969 and the family's planning a spectacular surprise for Mum in Susan Reynolds' "Dad's Designers". You can't wrap it, and it's not a pet…Bet you're dying to know. Illustration by Ruth Blair.
I learned a new word from one of this week's stories. It's "nizzlepick", in "Modern Man" by Christina Jones. Isn't it a great word? What do you think it means? It's another story you'll just have to read to find out! Illustration by Sarah Holliday.
Series
An elusive gerbil causes problems in this week's visit to Prospect House with Malcolm Welshman. Oops!
Meanwhile in "Riverside", Dave's brought in a few trusted friends to try out Clive's festive menu. "Turkey foam with duck velouté", anyone? You can't miss our weekly soap by Glenda Young.
Serials
Oh, poor Amy – and nasty Scott, who's making her doubt Daniel. Is he really having second thoughts? That's "Ring Out The Bells", our festive serial by Jan Snook, with a super snowy illustration by Ruth Blair.
Oh, and we say a fond farewell to Jenna and Garren in the final instalment of "The Dividing Tide" by Lorna Howarth, illustrated by David Young. It's wedding day and only one thing – or rather, one person – is missing…