Fiction Sneak Peek: Dec. 9, 2017 issue
---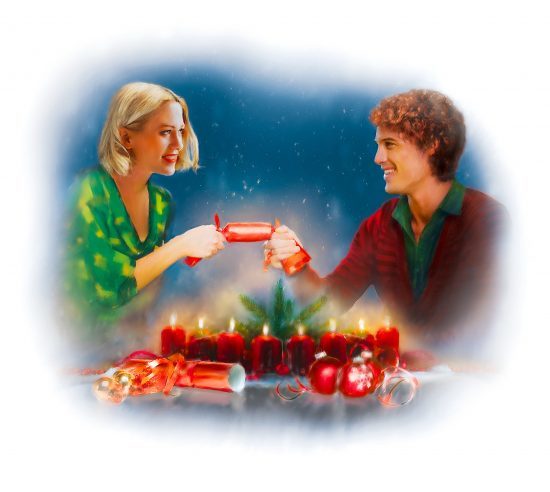 Illustration: Helen Welsh
Completely Crackers by Julia Douglas sets the festive mood. It opens in a radio studio with Sophie and Thomas being interviewed about their business. No prizes for guessing what it is. But is it – and their relationship – just for Christmas?
Frilly bridesmaid dresses – oh, the horror! No way are Sadie and Mo going to wear them, not even for best pal Fran. That's "Winter Wedding" by Jean Cullop, illustrated by Sarah Holliday. It's fun!
In "Getting The Message" by H. Johnson-Mack, the messages are on waitress Nina's pinny in the coffee shop. Trouble is, Jonas gets tongue-tied whenever he's around her. Maybe he needs a pinny, too? Illustration by Martin Baines.
I love the snowy illustration for "Reindeer And Robins" by Val Bonsall. It perfectly suits Oliver's memories of a magical Christmas in Sweden – with Astrid…. The theme of "Getting The Message" was carpe diem – seize the day – and it works for Oliver, too.
Some Christmas stories are timeless, like "Silent Night" by Pamela Ormondroyd about the guns falling quiet over Ypres on Christmas Day. It's a familiar story, but a perfect example that sometimes it's not only about the story itself, but how you tell it. Lovely. Illustration by Mandy Dixon.
Susie suspects her brother's trying to set her up with Joshua. But her "First Impressions" aren't great. By Jan Snook, this one's illustrated by Martin Baines.
Alison Carter is quite excellent at writing the unusual and "Some Female Company" is another cracker. We're in South Carolina, in 1785. The War of Independence is over, Annette is newly-wed to Ellis, and doing her best now to fit in with the wives of his friends. Illustration: Jim Dewar.
Series
Two cats in cahoots: it can only be the latest from Prospect House with Malcolm Welshman. Don't forget his series of books with more of his fun vet tales – perfectly crackers and perfect Christmas gifts!
It never rains but it pours – causing big problems in "Riverside"…. You can't miss the latest drama in our weekly soap by Glenda Young.
Serials
New serial alert! "No.4 Whitehall Gardens" is the address of Sir Robert Peel, Home Secretary…and Clementine's new employer where she's nanny to his children. And if that was all she had to worry about, things would be fine…. It's a dramatic story by Alison Carter, illustrated by Sailesh Thakrar.
Meanwhile, Daniel's not exactly laid out the welcome mat in "Ring Out The Bells" by Jan Snook. Part 3 this week, and more drama. Illustration: Ruth Blair.
An issue chock full of crackers. Enjoy!