Fiction Sneak Peek: Dec. 16, 2017 issue
---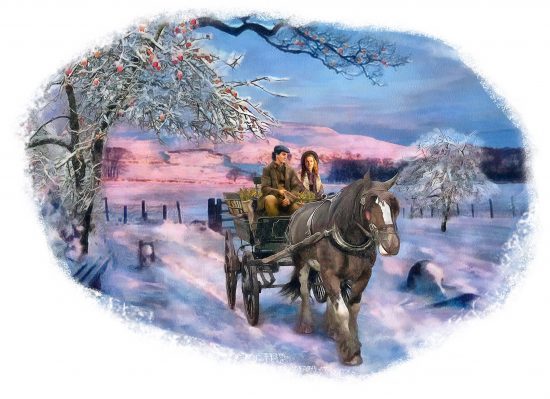 Illustration: Gerard Fay.
This gorgeous Christmas card scene welcomes you to our fabulous festive issue with a bumper 144 pages, 17 – yes, 17! – short stories, and 4 serial instalments. Really it's like two issues in one.
It opens with classic Pamela Kavanagh. "Blessing The Apple Trees" is about the tradition of wassailing, and centres on Tobias, tongue-tied around women and especially a woman like Tabitha.
"Operation Yule" by Eirin Thompson stars Jean and Maureen, ladies of a certain age and Christmas rebels. Illustration: Sarah Holliday.
Next, a super special exclusive: "A Coronation Street Christmas" by Maggie Sullivan. Think "Corrie" in 1939, with Elsie Tanner a young newly-wed. And there's the chance to win Maggie's seasonal novel "Christmas On Coronation Street", the launch book in a new series.
In "A Time For Family" by Jacqui Cooper, Kelly has never met her father. But is now really the right moment? Illustration: Tracy Fennell.
In "Make Yourself At Home" by Samantha Tonge, Millie's planning a low-fat, low-alcohol Christmas. But why? Illustration: Kirk Houston.
In "Cards And Crackers" by Ann Mortimer, Ivy takes her cracker motto to heart: It's better to give than to receive….Illustration: Sarah Holliday.
We can't have Christmas without Father Carter! Pat Thornborough's latest finds the good father tending some unexpected additions to his flock. Illustration: Pat Gregory.
Do you remember midwife Holly from last year's Christmas issue? She's expecting her own happy arrival in "Let It Snow" by Suzanne Ross Jones, illustrated by Mandy Dixon.
Lydia Jones takes us back to Hen Bont in 1900s Wales for "The Valet And The Gardener", the two men in housemaid Aelwen's life – but who will she choose? Illustration: Ruth Blair.
In "Ask Santa" by Jean Cullop, Sue knows what Dad needs for Christmas, but how can they ever get it for him? Illustration: Jim Dewar.
The trial of having a Christmas birthday is in the spotlight in "The Birthday Girl" by Angela Wooldridge. Illustration: Ruth Blair.
Another recurring character returns in "The Next Chapter" by Tony Redcliffe, about Mr Johnson and his journal. Illustration: Ruth Blair.
Christmas jumpers? For the office party? It's the dilemma facing Alison in "Shame About The Reindeer" by Wendy Clarke; illustrator Kirk Houston.
Disaster-prone Gordon should know better than to man "Santa's Grotto" in John Kenworthy's story, illustrated by Sarah Holliday.
An independent girl, a bicycle tour, and of course a taciturn hero; all come together in "The Mistletoe Garland" by Annie Harris.
"Three Little Words" by Wendy Clarke – what do you think they might be? Illustration: Jim Dewar.
And we finish our short story selection with the most Christmas story of them all, "A Magical Journey" by Patricia Belford.
Series
Keep up to date with both Malcolm Welshman's "Tales From Prospect House" and the latest goings-on in Riverside, our weekly soap by Glenda Young. One word covers both: catastrophe!
Serials
Parts 2 and 3 of "No 4 Whitehall Gardens" by Alison Carter take you right into the thick of the story. Clementine can't seem to do right for doing wrong…. And what about Griff? Illustration: Sailesh Thakrar.
It's the final instalment of "Ring Out The Bells", our smashing Christmassy serial by Jan Snook. One clue: Ruth Blair's illustration features a bride. Hurrah!
And we even have a fab new serial beginning, "The Mystery Of The Missing Du Mauriers" by Nicola Burggraf, which was yet another of the great entries in our serial writing competition. The gift that keeps on giving! Illustration: Kirk Houston.
Break out the mince pies, make a brew, then sit back and enjoy….