Fiction Sneak Peek: Jan. 6, 2018 issue
---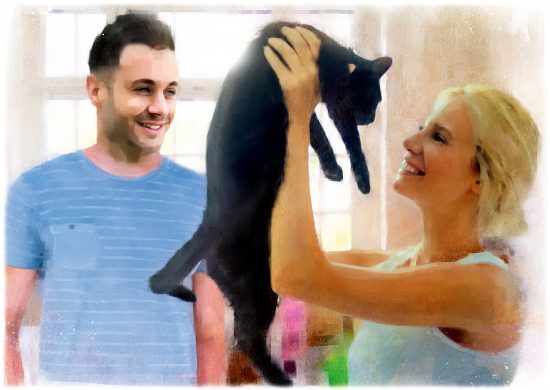 Illustration by Philip Crabb.
Happy New Year to one and all! And we've started 2018 with a lucky black cat to bring us good fortune. But what happens when he goes missing in "Alf Goes AWOL" – and who brings him back? Annie Harris's story gets the new reading year off to a cracking start.
How do you feel about crystals? Fine in a pair of earrings? How about as a source of healing? That's the unusual theme of Rosie Edser's story "Crystal Clear", illustrated by Sarah Holliday.
A bed for the night turns into the visit that looks like never ending when brother Pete comes to stay in "Man About The House" by Angela Pickering, illustrated by Sarah Holliday.
In "This Old Guitar", Maggie thinks of first love Charlie whenever she strums those strings… It's by Susan Reynolds, and illustrated by Sarah Holliday.
We're in 1930s Hollywood with Daisy dreaming of being a movie star in "The American Dream" by Kate Finnemore, but of course it's not that easy.
Our next story by Julia Douglas was inspired by one of my Story Starter images, the one of a sunset/sunrise. This interpretation is beautiful, as Jennifer gazes up at the clouds and lets her mind wander. "Castles In The Air" is illustrated by Sarah Holliday. (That's her fourth this week. Goodness, she's been working hard!)
Did you ever have a teenage crush? Sally did, on the best looking boy in school, and now she finally has a date with him! That's "A Date With Danny Morgan" by Tracy Baines, illustrated by Philip Crabb.
Series
The January blues are taking their toll in "Tales From Prospect House" by Malcolm Welshman. Don't worry, the pets are fine – it's vet Paul who's under the weather!
Ah, but in Riverside, a new year dawns and romance is in the air – but who for? You mustn't miss our weekly soap by Glenda Young.
Serials
How are you enjoying "The Mystery Of The Missing Du Mauriers" by Nicola Burggraf? Intriguing, isn't it? Part 3 this week, with Hannah spotting a small but important clue. Illustration: Kirk Houston.
And we've reached the final instalment of "No.4, Whitehall Gardens" by Alison Carter and illustrated by Sailesh Thakrar. Will I tell you what the illustration is? Oh, all right then – it's a wedding scene…. Aahh.
All best for the new year ahead.