Fiction Sneak Peek: April 14, 2018 issue
---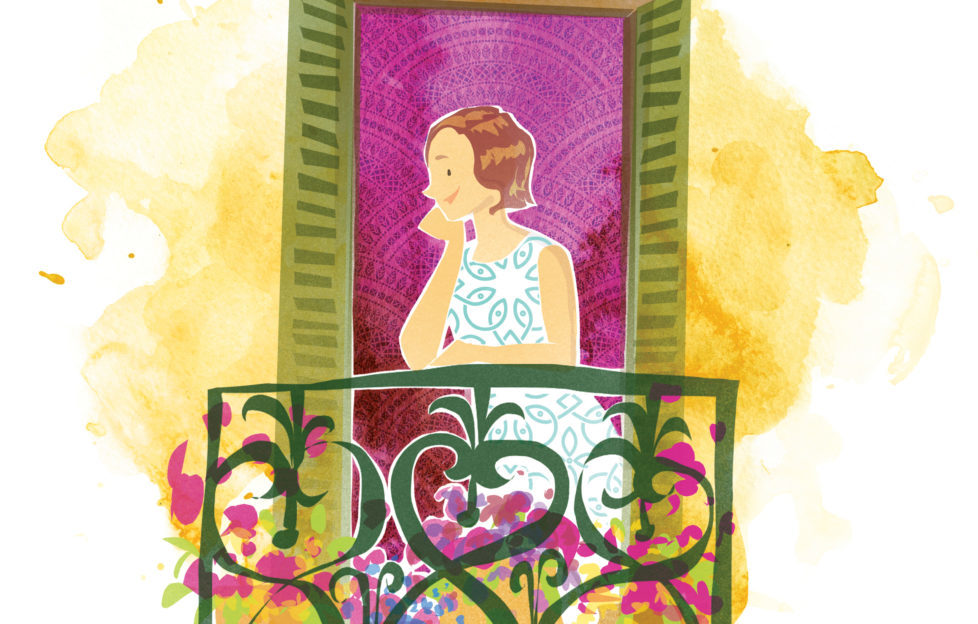 Illustration: Sarah Holliday
Ah, springtime in Menorca…Such an appealing idea after this looooong winter. Immerse yourself in Rebecca Holmes's Seasons Of Change and let its sunshine warm you. Julia's sister's coming to visit. Why isn't that good news?
Market Forces by Keith Havers is a wartime story, but with a difference. Uncle John is the lovable rogue, the one who can always find whatever it is you might need – but why isn't he fighting like Princess's brother John? Jim Dewar's illustration captures it perfectly. And Keith talks about this story on Fiction Ed's blog where he's my Writer of the Week.
Trisha's looking for That Special Someone, and knows exactly what he'll be like. But someone forgot to tell Fate….This one's by Sylvie Hall – her debut story, as it happens, after attending one of our writing workshops last year. Welcome to the Friend, Sylvie!
How do you feel about cats? Or more importantly, how do they feel about you? In Me And Mrs Jones (Remember that song? I wonder if that's what inspired the story?) a cat comes to stay, a cat who'd rather be anywhere else….By Vanda Inman, and cute illustration by Kirk Houston.
I do enjoy meeting Val Bonsall's Seventies sleuths Glyn and Chrissie. They're back in A Temporary Problem, with a new case to solve, which might equally be titled The Case of the Troublesome Temps…Illustration Philip Crabb.
A dramatic illustration by Kirk Houston sets the tone for Ships In The Night by Wendy Clarke, about Leona and Oliver whose careers are taking priority at the expense of their marriage.
I was never into tree-climbing as a child, but they seem magical places as the oak tree is in Ewan Smith's Scarlett's Tree. It's her place and she doesn't want anyone else to climb it, but it's funny how things work out. Illustration: Sarah Holliday.
Let's see, what else do we have for you? Oh yes…
Series
In Della Galton's new series for us, Busy Bees, two perky pensioners are plotting!
Meanwhile in Riverside, Mike's getting all het up about his blind date. You won't want to miss the latest in our weekly soap by Glenda Young.
Serials
All Change At Dawson's Dairies, a brand-new serial by Josephine Allen, is an intense family drama that opens with Peter, patriarch of the Dawson family and owner of the business, asleep at his desk. Or that's what Lillias thinks at first. A month later he's recovering, but things have to change. The question is, how?Illustration: Mandy Dixon.
Meanwhile we've reached part 5 of Alfred's Emporium by Louise J. Stevens. There are some delicious scenes in this instalment between Alfred and Miss Delia Bassett. He says one thing, she hears another….Illustration by Ruth Blair.
I hope you enjoy it all!