Book Review: My Not So Perfect Life By Sophie Kinsella
---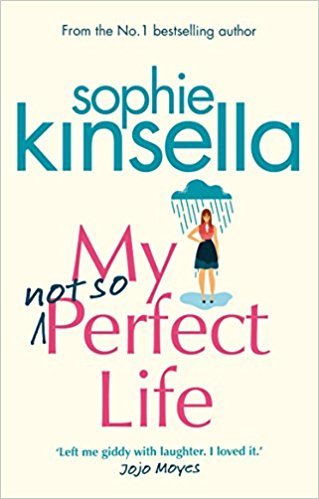 In "My Not So Perfect Life", Sophie Kinsella is back to her best. But the ending soured it for me.
As a digital gal, I was drawn in by the blurb:
One day my life will match my Instagram account. One day.
When I noticed this on Amazon, I couldn't resist putting it into my shopping basket. One of the best things about working at "The People's Friend" is the sheer amount of books that are sent to our Fiction team. It's akin to a chocolate box selection card most days. RP and I are in the habit of reading at night time, and my appetite for reading has grown considerably.
Can you keep a secret?
I should preface this review with the knowledge I adore Sophie Kinsella, I have enjoyed her Shopaholic series, and Becky Bloomwood character for many years. Definitely enough to search out her writing as Madeliene Wickham.
You know what you are going to get with a Sophie Kinsella novel. There's a subtle moral message, a hunk, a charming heroine, goofy moments and the outcome we were all hoping for. It's on par with a good rom-com. Hence why I found myself searching for all and any books she had recently released.
I realised at the end of this book though, that perhaps while Kinsella was still flexing her writing flair, I had perhaps moved on.
I've got your number?
What you learn as this story progresses is that no-one's life is perfect, it only looks so from afar. It probably looks dreamy if you view it on Instagram, but real-life is rarely like that. I thought this book would focus more on the fake lives posted on Instagram. This was, after all, what I had been drawn to in the tagline.
The story centres on Katie, a farmer's daughter from Cornwall, who has headed to the big city to become a name in advertising. As the book title suggests, Katie's life from the outside looks great, but the reality is different. In fact, she's living on the breadline and sacrificing so much for a chance to better herself.
When a series of events send her home to Cornwall and her family, Katie's character grows and she learns to accept herself for who she really is.
Remember me?
For me, this book was a mix between a gander down memory lane and a very pleasant way to reconnect with one of my favourite authors. I urge you to try one of her stand-alone novels if you haven't, you will laugh out loud at least once. Aside from humour, another thing Kinsella never fails to nail is characters. She brings them alive on the pages, and this book is no exception. You will love Katie, Demeter, and her Dad and Step-mother, I defy you not to fall in love with them.
As I mentioned in the first line, I was let down by the ending of the book, because I'd seen Katie grow, and we live in a word of stronger women characters now. But I'm not going to be too harsh about this, as I thoroughly enjoyed this book, and have her next, "Surprise Me", on order!
Get your copy of "My Not So Perfect Life" now.
For more of the team's book reviews, click here.