Craft Preview August 4
---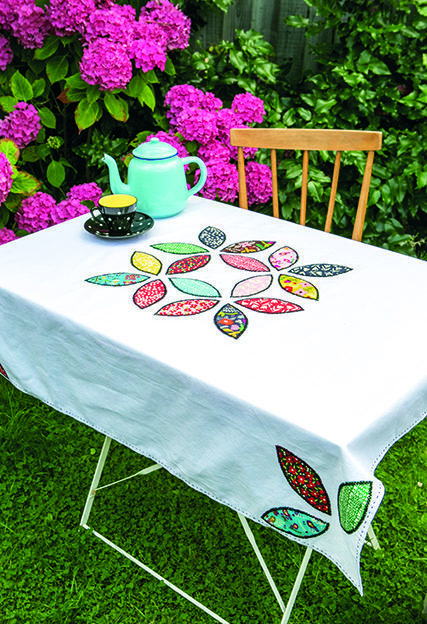 With everyone loving alfresco dining at the moment, our tablecloth is perfect.
The Technical Stuff
We have given instructions for making your own tablecloth and securing the hem with a decorative running stitch but you could use a ready-made cloth as long as it was of a good weight.
We supply a template for the petals that are all appliquéd on following the placement diagram. You need 28 strips of fabric in all and you can decide how many different colours and patterns you want to use. Our fabric was all from one Jelly Roll so they complemented each other.
A Jelly Roll usually includes 40 strips of fabric which have been selected to have colour, pattern or theme in common. They are then rolled into a round which is an easy way of keeping them in place. You will see them in fabric shops and at craft and quilting shows and if you have one tucked away in a cupboard, now is the time to get it out!
How are the petals attached? Very simply with a herringbone stitch worked all the way round each petal. Don't worry if you are unsure of how to do that, there is a diagram included showing the stitch in detail. A good thing about this design is that it is meant to look handmade, so a few wonky stitches won't matter.
We have themed our cloth for summer but autumn leaves or Christmas sparkle would be lovely,  too.