Writing Prompt Story Starter: Skull
---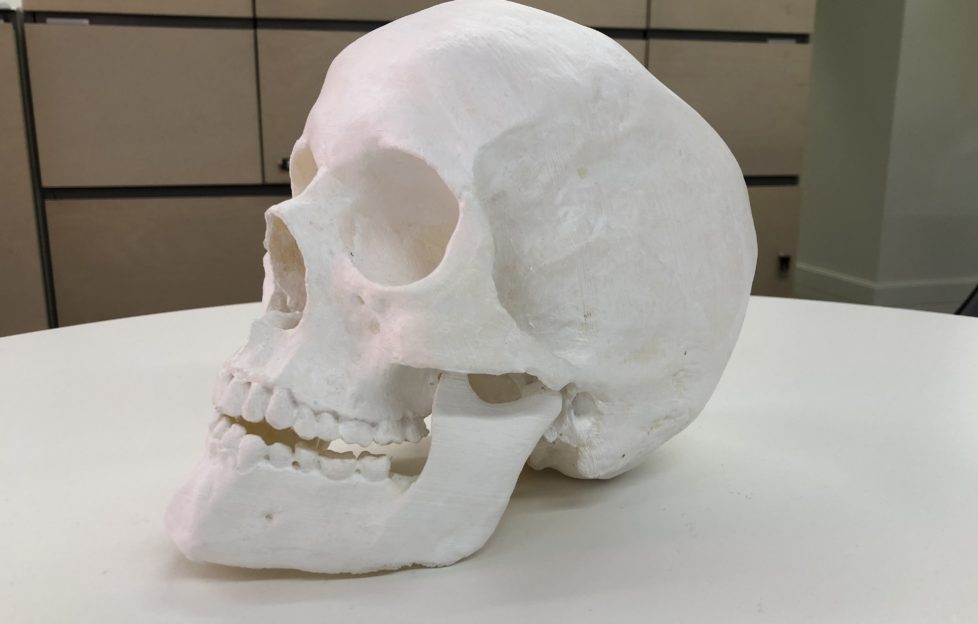 Photo: Shirley Blair
Guess who? This skull is possibly the most macabre Story Starter image I'll ever present as a writing prompt.
It's Tracey's, and it was a gift.
Maybe I should explain. Two things.
Thing One
Thing One, the Fiction Team's Tracey is the Friend's recognised expert on all things forensic, crime scene related, crime drama relate, crime fiction related. Basically, if there's a crime involved, she's interested! She enjoys few fiction reads more than a warts and all murder novel. But more than that, she's interested in the science behind it all – the psychology as well as the forensics. She's even done distance learning courses. So, she's interested in skulls, and actually likes them. She even has skull Christmas baubles.
Thing Two
So now to Thing Two. Our colleague Sarah's flatmate moved out this week. She was a bit of a hoarder, which meant lots of packing. Flatmate had been studying Medical Art at Dundee's Duncan of Jordanstone College of Art & Design. And she ran out of packing space before she could stow the skull she'd made as part of her course. Did Sarah know of anyone who might want it?
What were the chances?
Sarah brought it in in a supermarket carrier bag (so fortunate she didn't have a mishap on the way!) and – well, you can imagine Tracey's squeals.
She's called him Vincent, and I thought he would make a story starter writing prompt.
The obvious story is a murder mystery.
But also, what fascinated me about it is the thought that we all look like that underneath. Well, allowing for the slight variations by gender – the eye sockets and forehead are different between men and women, apparently (thanks, Tracey….) – or ethnicity.  But we're all a bony skull like this encased in a mesh of tendons and veins and ligaments and flesh…. We're all the same under the skin. And that's a story too, isn't it?
And if you need more writing inspiration, raed Lucy's post about the Seven Basic Storylines.