Writing Prompt Story Starter: Cable Knit
---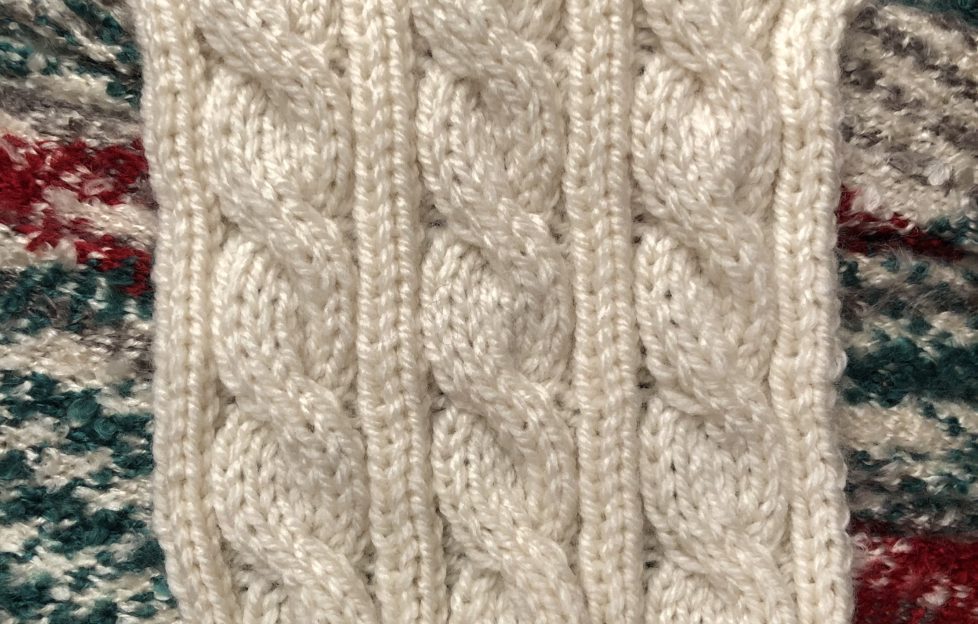 Photo: Shirley Blair
This week's Story Starter writing prompt image shows a knitted square in a cable pattern.
I've mentioned a few times now that I'm knitting and crocheting a lot at the moment, trying to use up a gigantic bag full of single balls of yarn. And I'm trying to do it usefully, making things either that I'll wear or use myself, or that I can give to local charity shops to sell.
So far it's been lots of fingerless mittens, which are my favourite to make – so easy, even on four pins, and useful. They're great for a mobile phone with fingerprint recognition security. Hats, tea cosies, scarves – two pins, four, circular. I'm trying them all. Learning lots. And the contents of the bag is going down.
Today's Story Starter image is a square that might have turned into one hand of another pair of fingerless mittens, but I ran out of yarn before I knitted its partner. But all is not lost. I didn't rattle it down because instead this square could now become the centre-piece of, say, a cushion cover, or a blanket, even a patchwork sweater. So many possibilities…
And that's why I thought it was useful as a Story Starter. It symbolises the very purpose of the Story Starter image, in fact. The image might show a scene or an object about which you could write literally. A door. A bridge. Flowers.
Let Your Imagination Run Free
But your imagination might lead you into a completely different story that bears little relation to the original picture. For example, a photo of a door could prompt a story about a new home. Or it might evolve into a story about new beginnings, opportunities, challenges. A bridge picture might prompt a story about an actual bridge, as in, say, San Francisco, or it might lead to something more metaphorical about friendship and estrangement.
You get the gist? I wonder what this picture of a knitted square in cable pattern will evolve into? Think of the possibilities….
If you'd like a wee reminder of how the Story Starter works, you can read it here.