Knitting Preview: Feb 2, 2019 Issue
---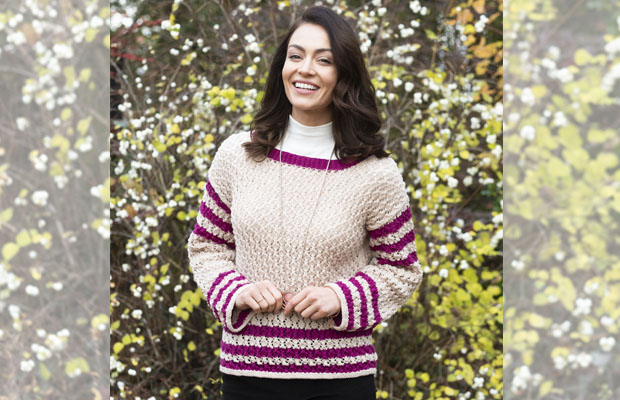 This week's knitting preview gives you a sneak peek at lace and contrasting stripes.
Our lovely top is worked in an all-over lace pattern, which is worked over an 8 row repeat.
It is worked in Rico Design Essentials Merino DK in Ivory and Berry. There are plenty of other shades if you prefer something else, though. And if you would rather work it in one colour, just add three balls to the quantities quoted for the main shade. To order the yarn directly or to view other shades, visit www.woolwarehouse.co.uk.
There are instructions for eight sizes ranging from 81 cm (32 ins) to 117 cm (46 ins). Actual size is about 8 cm (3 ins) larger for a comfortable but not too loose fit.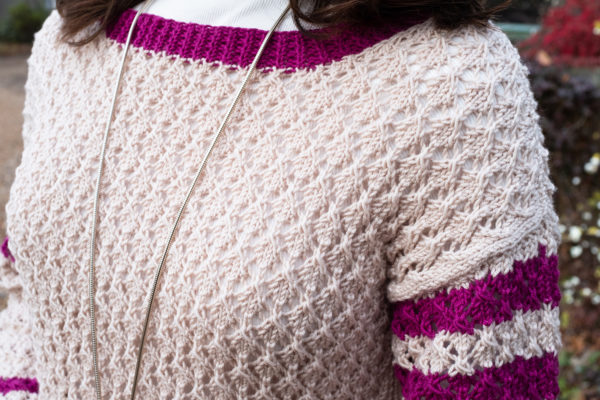 We have marked this design Intermediate. It is not too difficult to make, but you do need to pay attention when working increases and decreases to keep the lace pattern correct.
Our model is wearing this over a light polo neck, which makes it perfect for being out and about on a cooler day.
The pattern is very versatile, though, and it would look just as good over a light camisole on a warmer day.
We love this design, and we hope you do, too.
If you find yourself at a loose end, look for some inspiration on our Craft pages.
Has this knitting preview piqued your interest? We feature fantastic patterns in almost every issue. Subscribe today to make sure you don't miss out!