Writing Prompt Story Starter: Ties
---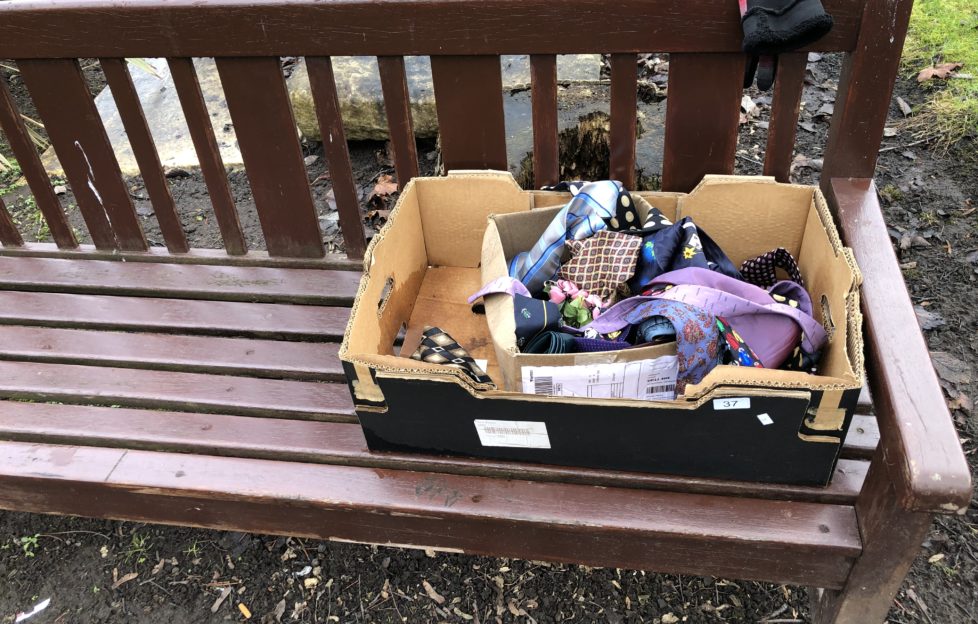 Photo: Shirley Blair
Well, what do you make of this week's Writing Prompt Story Starter image?
It was actually our Illustrations Editor Sarah who spotted it: a box of ties left on a public bench. The bench is in the graveyard across the road from the office. Yes, the same one I got locked in… Strange things do seem to happen in this graveyard! She told me about it and of course I just had to run out and take a picture. (Does anyone still call it taking a snapshot, btw?)
It's a mixed selection of ties, as you can see. But why on earth…? And who? And where from? I wonder if they were some older gent's pride and joy at one time. My dad was a proud tie wearer all his days and did like a tie that allowed a nice knot. Different generation. Different standard of dress. Or different code of dress, perhaps.
Oddly, the same day, just moments before Sarah spotted this, I passed a girl on the corner just outside this graveyard, and she was carrying a cardboard box loaded up with well-worn boots and shoes. As I said at the beginning, what do you make of that? Heading into our modern shopping centre, she was. Strange.
I am intrigued to see what stories arrive in response to this Writing Prompt.
In other news….
Coming hot on the heels of the Christmas and New Year break, the celebrations of our 150th anniversary have led to the Fiction Team running slightly slow on our reading. We always say to allow 12-16 weeks to hear about your story, but we're on the outer edge of that limit at the moment. But be assured we're working our socks off and reading your stories just as quickly as we can. In the meantime, many apologies. As ever, if your story is particularly time sensitive, mark it on the envelope before you pop it in the post, and if you've already sent one and are fretting that you'll miss the season or a particular event, drop your editor an email and we'll do our best.