Writing Prompt Story Starter: Twenties Style
---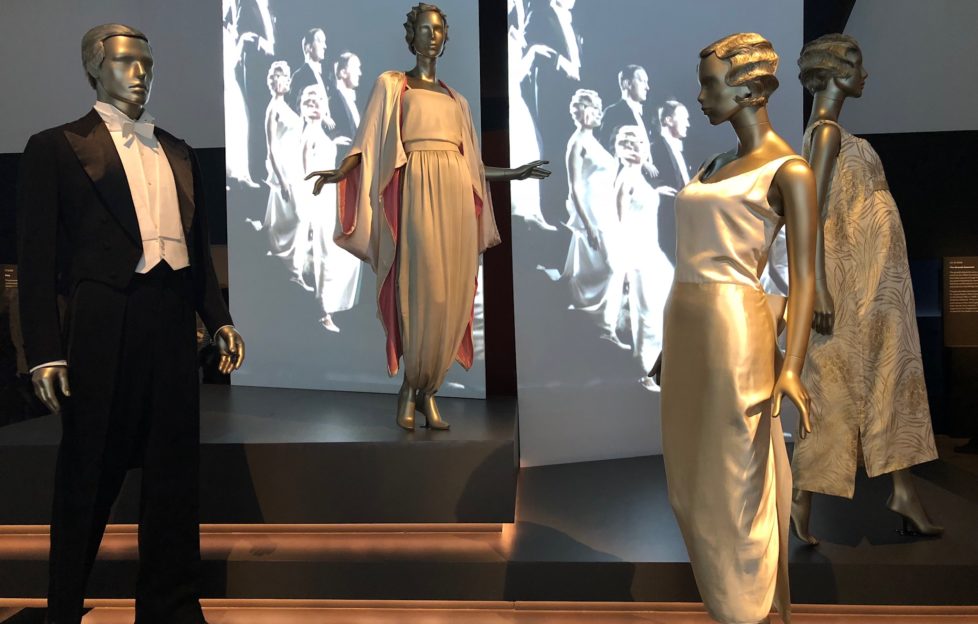 Photo: Shirley Blair
This Writing Prompt Story Starter image absolutely ooooooozes elegance, don't you think?
It's the kind of elegance that we just don't seem to do these days. At least not in the circles I generally find myself moving in!
The picture is of a small portion of the wonderful Ocean Liners: Speed & Style Exhibition that's just closed at V&A Dundee. And this clearly was one of the "style" exhibits.  Those slick silks. The scintillating gold brocade. The elegant drapes. Does it make you sigh for a time gone by?
The black and white image behind the figures was a loop of film of a couple descending a staircase. Of course it was the kind of staircase that would lead from one sumptuous deck of a luxury liner to the next, and designed to ensure passengers could make a jaw-dropping entrance.
Another of the exhibits was of travel trunks that niftily opened up into chest of drawers. Compare that to the youngsters of today, probably only the same age as these polished ladies, who're more likely to be staggering under the weight of a laden backpack.  Or packing all they can into the regulation carry-on trolley bag allowed by the budget airline of their choice.
Same spirit of adventure, though, traveling the world, exploring, seeking out new horizons….
Intriguing dynamic
I like the dynamic here: one super smooth man, three attractive young women. Are they competing for his attentions? Is he playing them off against each other? Three. Are they perhaps past, present and future?
They're all the same type. Is that relevant?
The film loop: does it show the life they – or just one of them – aspires to?
The more I look at this image the more interesting and promising it becomes in story terms.
I'm fascinated to see how you develop this and what kind of story you come up with. It's over to you!