Pan-fried Breakfast
---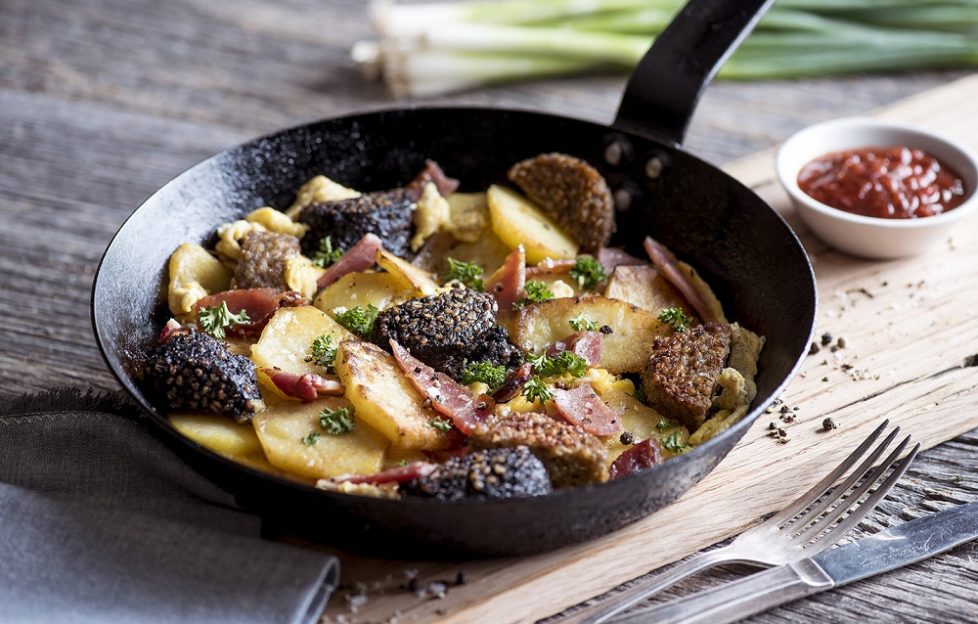 Ingredients
3 large potatoes, peeled and sliced
Knob of butter or a little cooking oil
1 x 280 g Clonakilty Blackpudding
1 x 280 g Clonakilty Whitepudding
1 x 200 g Clonakilty Slisíní Rashers
1 onion, chopped (optional)
4 free range eggs
Salt and freshly ground pepper, to taste
Handful of parsley, chopped
Recipe and image courtesy of Clonakilty Food Co.
Bring a saucepan of salted water to the boil. Place the potatoes in the pan and boil for 5 to 8 minutes until parboiled.
Place a frying-pan on medium heat. Add a small amount of butter or oil and then the puddings. Adjust heat as needed and keep turning puddings until cooked through.
Pre-heat the grill to medium. Place the rashers under the grill and turn after 10 minutes. Keep cooking until desired level of crispiness has been reached.
Remove the cooked pudding and rashers and chop them into smaller pieces.
Heat a frying-pan on medium heat and add butter or oil. Add the onion, if using. Once the onion starts to soften, add the potatoes and brown each side. Add the chopped pudding and rashers.
Whisk the eggs and season. Add the eggs to the pan and keep stirring until cooked.
Divide the mixture into four servings, remove from pan with a fish slice and place on plate. Top with parsley and serve.