Writing Prompt Story Starter: Set Table
---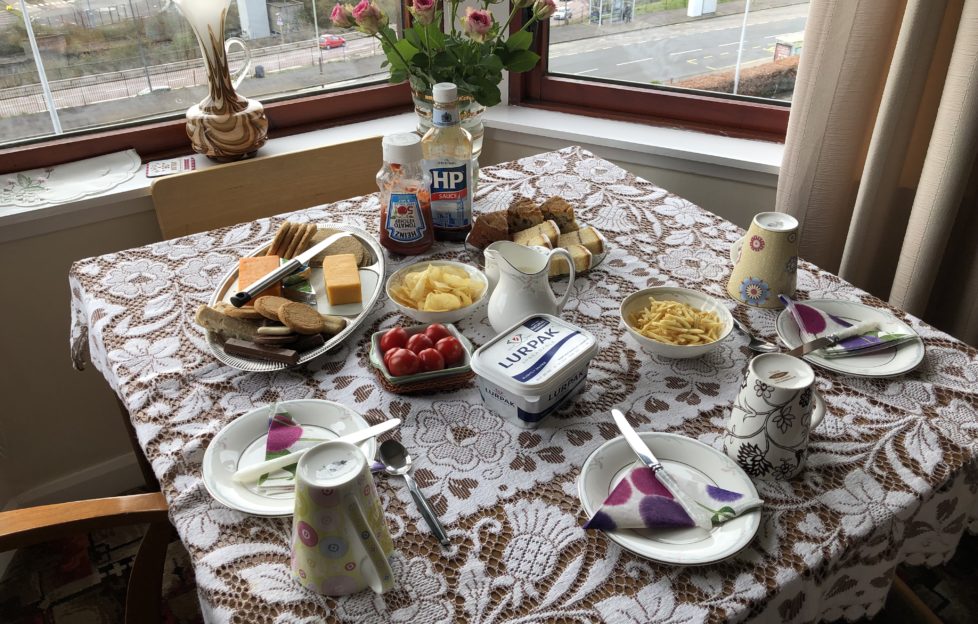 Photo: Shirley Blair
I love the genteel elegance of this set table. The lace tablecloth speaks of a different time, the napkins of a wish to make it look pretty and nice.
My sister and I go regularly to my beloved godmother's for Sunday lunch. And every time Ella sets the table as nicely as this. And it's not easy for her; she's coming up for her 91st birthday, isn't as nimble as she used to be, and uses a walker for security.
I love what this says about her. That standards matter and she's determined to maintain them. There's pride in doing things right. It also, I think, signifies  anticipation. That her guests are worth making an effort for. And it's not just us. I know she takes this trouble when her friend Isabel comes for her weekly lunch.
And doesn't that tell you something else? Ella's is a welcoming home. You won't stop by without her putting the kettle on and producing a plate of nice cakes and biscuits. She relishes company. And I can tell you, she's darned good company herself. We always have a laugh and a giggle.
What's The Story?
What story does this image start, though? To me it's the themes we want to look at rather than this specific scenario. I don't necessarily want a story about a 90-year-old lady receiving visitors.
In terms of themes, then, think about anticipation; companionship; standards. How things have changed. How appearances matter. Pride in a job done right. Pride in independence. It might be a story about a girl setting up in her first flat and the first time she invites her parents round for a meal. It might be about a refugee family and the first time they welcome a new friend to their home.
Think, think, think…..and it's over to you…