Writing Prompt Story Starter: Rain Gauge
---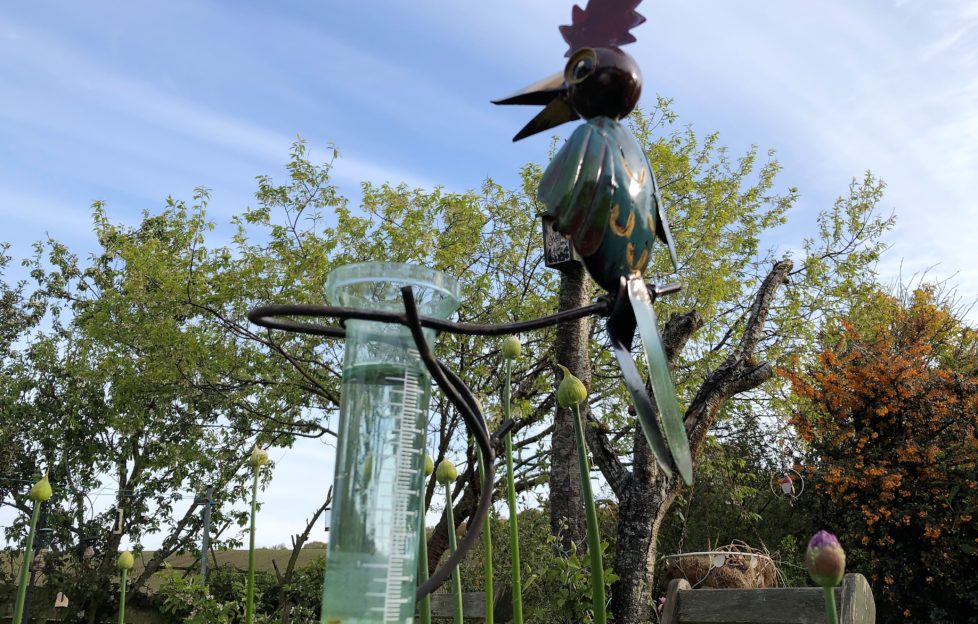 Photo: Shirley Blair
Fiction Ed Shirley's Writing Prompt Story Starter is inspired by a deluge of rain . . .
I can't tell you how much rain we had on Wednesday this week. Oh, wait — yes I can, because of the cute rain gauge we have in our garden.
It was raining when we went to bed on Tuesday evening, and still raining at bedtime on Wednesday. A 24-hour+ deluge. Five inches' worth.
So your Story Starter starting point might be along the lines of "it never rains but it pours" or "into every life a little rain must fall".
Your story might focus on the question of what kind of people measure the rain (ahem . . .)
But the more interesting question might be why. Who might it actually properly matter to, and for what reason?
We're obviously in lushly green Scotland, but such a deluge will have a different impact in different locations. For some, it might be a merciful release from drought. On the other hand, it might saturate land at just the wrong time. Even cut people off . . .
What plans might a day-long downpour mess up?
Off At A Tangent
I remember, actually, my very first day at work was like that. It was early June, and in the morning I wore the nice skirt, blouse and platform sandals that I'd bought specially.
It rained all morning, and I got "drookit" and cold in a thunderstorm at lunchtime. So I went home, changed into sweater, trousers and desert boots (I'd quickly sussed that the office dress code was "casual"), and had a much more comfortable afternoon.
My mum was in hospital at the time, and I was to visit her after work. She was looking forward to seeing me dressed up, looking all professional for my exciting new career in journalism. And instead what she got was her usual scruffy Shirley.
Anyway, as usual I've gone off at a tangent. But that's OK, because it's what these images are designed to encourage. Tangents are good. We should nurture the tangent.
Happy writing!
From more from Shirley, read her blog here.
Click here for more writing prompts.