Start The Day Well With This Pan-fried Breakfast
---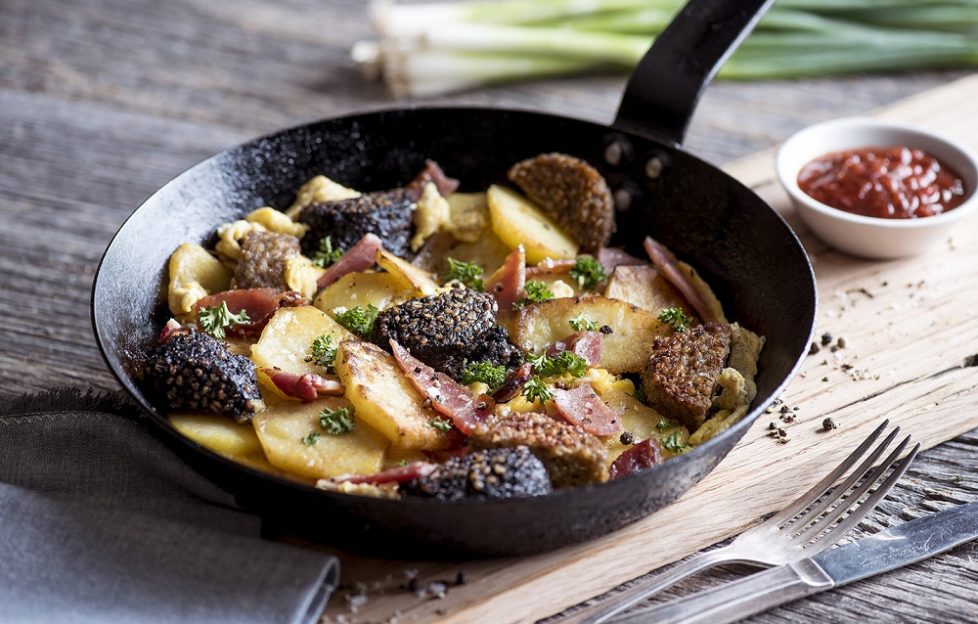 Image courtesy of Clonakilty Food Co.
Ingredients
3 large potatoes, peeled and sliced
Knob of butter or a little cooking oil
1 x 280 g Clonakilty Blackpudding
1 x 280 g Clonakilty Whitepudding
1 x 200 g Clonakilty Slisíní Rashers
1 onion, chopped (optional)
4 free range eggs
Salt and freshly ground pepper, to taste
Handful of parsley, chopped
Recipe courtesy of Clonakilty Food Co.
It's important to get a good breakfast, no matter your plans for the day.
That's where this recipe comes in . . .
Method:
Bring a saucepan of salted water to the boil. Place the potatoes in the pan and boil for 5 to 8 minutes until parboiled.
Place a frying-pan on medium heat. Add a small amount of butter or oil and then the puddings. Adjust heat as needed and keep turning puddings until cooked through.
Pre-heat the grill to medium. Place the rashers under the grill and turn after 10 minutes. Keep cooking until desired level of crispiness has been reached.
Remove the cooked pudding and rashers and chop them into smaller pieces.
Heat a frying-pan on medium heat and add butter or oil. Add the onion, if using. Once the onion starts to soften, add the potatoes and brown each side. Add the chopped pudding and rashers.
Whisk the eggs and season. Add the eggs to the pan and keep stirring until cooked.
Divide the mixture into four servings, remove from pan with a fish slice and place on plate. Top with parsley and serve.
---
Click here for more great recipes from "The People's Friend", including more breakfast options like this California Raisin Crunch.
If you can't get to the shops just now for your "Friend", subscribe now by clicking here. It means your magazine will come straight to your door every week — all you have to do is put the kettle on!
You can also take out a digital subscription, meaning your issue will come straight to your computer, tablet or phone! And it's great value for money. Click here for more details.