Mediterranean Spinach-filled Rolls
---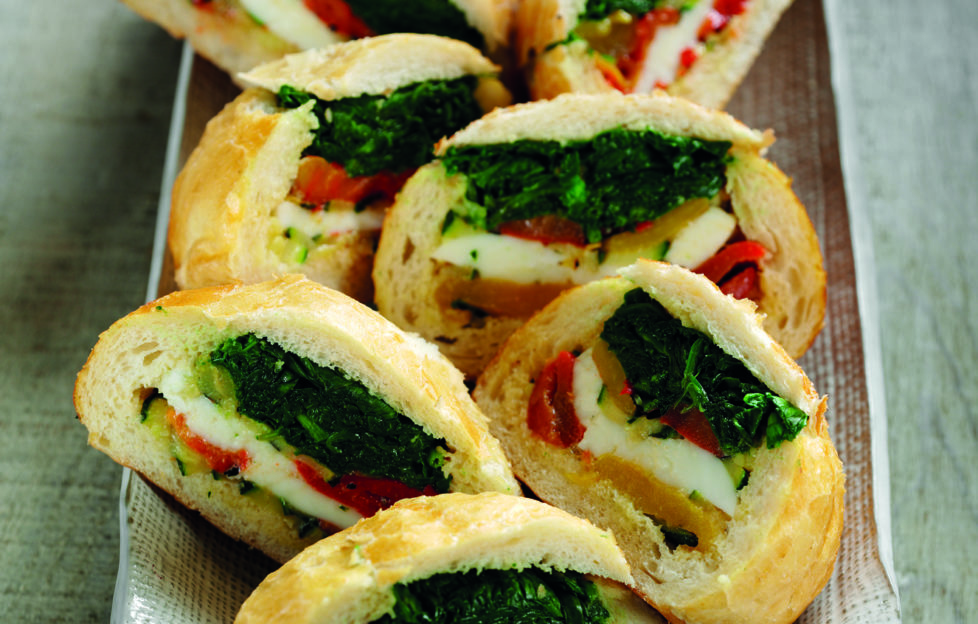 Ingredients
4 crusty bread rolls
1 x 260 g bag spinach
1 x 280 g jar chargrilled peppers in oil
1 courgette, halved then sliced thinly lengthways
2 tbs chopped basil
125 g (4½ oz) light mozzarella, sliced
To Serve: salad.
Recipe and image courtesy of Discover Great Veg.
It's National Picnic Week! This fantastic event encourages us all to grab our blankets and baskets and head outside to enjoy the Great British summer. When it arrives . . .
We think these delicious Mediterranean spinach-filled rolls should be first on the menu. They're not only easy to make, they're also delicious!
Take a look at this recipe and try them for yourself.
Method
Cut the tops off the rolls to make lids and reserve. Scoop out the bread, saving the shell. (You can make breadcrumbs with the bread from the rolls and freeze for later).
Place the spinach in a large bowl, cover with clingfilm and microwave for 2 minutes. Squeeze out the excess liquid.
Drain the peppers, reserving the oil. Heat 1 tablespoon of the oil and fry the courgettes for 2 to 3 minutes until softened and mix in the peppers and basil. Season to taste.
Place half the courgette mixture in the base of the rolls, add the mozzarella and then the remaining courgette mixture, press in the spinach then top with the roll lid.
Serve Mediterranean Spinach-filled rolls halved, with salad.
And if you're looking for other ways to enjoy the sunny weather, look no further! Here are some of our recommendations.