Meet The Team: Production
---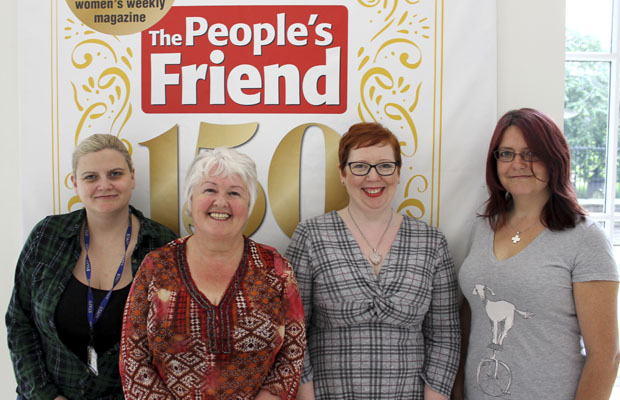 Jacki, Margaret, Sharon and Judey
This week's "Meet The Team" feature focuses on our Production people: Judey, Jacki, Margaret and Sharon.
Tell us about the members of the team, and their day-to-day responsibilities. What does a typical week look like?
Judey: On Monday, the weekly pages are flooding through from the Design team, so these are always our priority. There are always three Specials on the go, too, as well as Pocket Novels and sometimes annuals.
So if you work for Production, you have to be adept at juggling deadlines and priorities. On Thursday I have to check the weekly on the printer's site before Angela can give it final approval. For the Special, this happens every three weeks on a Friday, too. I will also check the paper dummy on a Friday, and do any final corrections that have been picked up.
Jacki: Editing, checking and proofreading are a big part of our working week, as well as making sure all copy is where it should be at the right time in order to get everything sent to press on time.
Sharon: A typical week at the "Friend" is very busy and varied. There is always a new project to get involved with.
How long have you all worked on the "Friend"?
Judey: I've been with the company almost 35 years, and I've been about 18 on the "Friend".
Margaret: Judey's worked here the longest! Then I just beat Jacki, having started in 2002.
Jacki: I started on the "Friend" in October 2006. It was my first full-time job after graduating from university.
Sharon: I only joined towards the end of May this year, so I have a lot of catching up to do!
Have any of you worked on any of the other "Friend" teams?
Judey: When I started, and when Margaret started, too, we were one big team. Since we were divided up, we have both always been on Production.
Jacki: I used to be a member of the Fiction Team, and was seconded on to the Production team when they were short a member of staff. I enjoyed it so much, I never looked back!
Favourite parts of the job(s)? Any tricky bits?
Judey: I like things to be right and I like having things the way I want them grammatically. I am a complete pedant, so I love this part of the job!
Jacki: I love sub-editing our fiction — especially any crime thriller stories we may have, as this is my favourite genre to read in my day-to-day life.
Margaret: Crosswords are fun!
Sharon: One of the best parts of the job is reading the short fiction. There is such a variety, and our writers cover a broad range of themes from family relationships to career changes, which keeps it interesting.
Any "Friend" connections within the team?
Sharon: My aunt is a semi-regular reader of the "Friend"!
Tell us a secret about the team.
Sharon: We have recently become addicted to Nairn's biscuits . . .
Jacki: Only one of us doesn't colour their hair.
Margaret: Never leave your work unattended as Judey can be a minx and change text without you noticing!
What do you think is the secret of the Friend's success?
Judey: The magazine belongs to the readers, and I think all the editors have recognised this.
We try our best to give the readers what they want, not what we think they should want. We are all very aware that we are just guardians of something that will be around long after we have moved on.
Margaret: We listen to our readers.
Jacki: We have stuck to our values from the very beginning, and I think our readers appreciate that.
Sharon: I think the secret of the Friend's success is down to the dedication of each team member, as well as our editor, Angela. There is a real affection for the magazine and we are loyal to the tradition established before us.
Any thoughts on the "Friend" in this milestone 150th Anniversary Year?
Judey: I'm delighted to be working on the "Friend" in this special year, and proud to be part of its incredible history. It's never been our way to blow our own trumpet, but I believe people should be made to realise what an extraordinary publication this is.
Margaret: So proud to be a part of it.
Sharon: The "Friend" balances the traditional values which the magazine was originally built on, while moving with the times and growing with our readers. I would like to see it continue to do so, embracing change in the future so it always remains relevant.
---
Interested to hear more from the team? Click here to read our blog!
Read more "Team Behind The Team" interviews here.