Meet The Team: The Features Team
---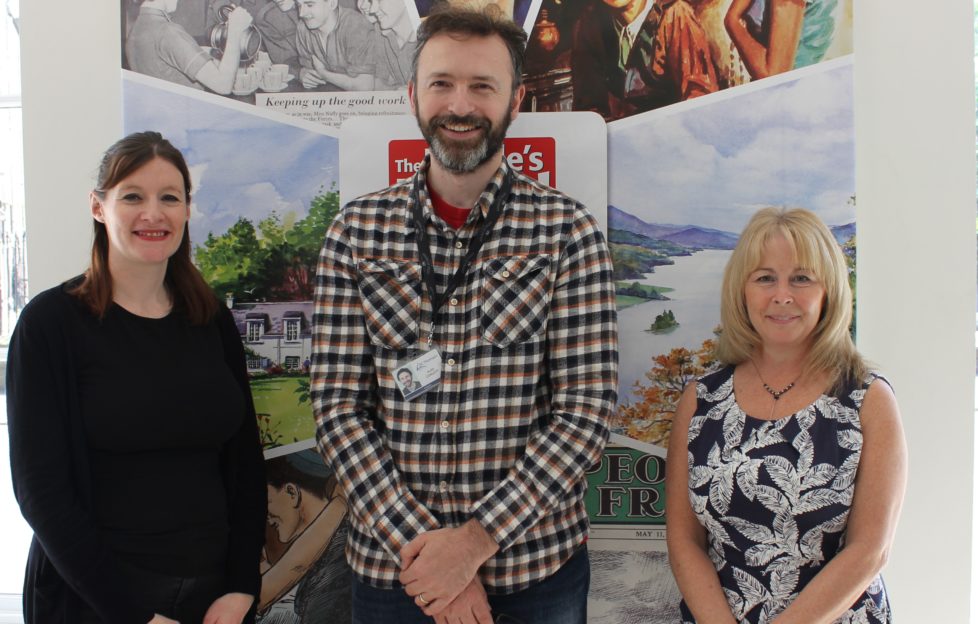 Features Editor Alex is here to tell us all about the day-to-day life of the Features team.
Tell us about the members of the team, and their day-to-day responsibilities. What does a typical week look like?
We are quite busy, but thankfully there are now four and a half of us in the team!
Liz works part-time, and looks after all the knitting and craft. Lisa – who has only just joined us – is looking after the international travel, the letters page and the "On Reflection" pieces, and will take on the Talking Point page soon.
Yvonne does the Health pages, the contents, the "Would You Believe It?" page, the "next issue" feature and competitions, while Marion (not in the photo) looks after the cookery and the finance – plus is also working on a top-secret new project at the moment!
I do the cover features, organise the puzzles, "Maddie's World" and the gardening – plus we all contribute ideas to the pot for all the other features: the interviews, the charity pieces and anniversaries, etc.
Our week really hangs around our Tuesday afternoon features meetings with Angela. That's where we discuss ideas and plan what's going in for the weeks ahead.
So the week is divided into getting ready for the meeting, then working on the results of the meeting!
Of course, there are lots of things that we work on that don't depend on the meeting, like the letters page and the gardening. And because we're a weekly mag with a Special every three weeks, we're always keeping an eye on getting the copy in for those deadlines!
Have any of you worked on any of the other "Friend" teams?
Marion and I have both been here long enough to have worked in the office before there even were teams!
Back in the day, we all used to do a little bit of everything. I was the Assistant Cookery Editor for a while, and we both worked on the old "Snap Happy" and "Round Britain" pages, as well as reading fiction.
Yvonne was previously a sub-editor for the "Evening Telegraph". Lisa was a sub-editor for "The Weekly News", then recently joined the "My Weekly" team – before we nabbed her!
Tell us about some of the long-standing freelance contributors you work with.
We've got loads of great contributors – though not as many as the fiction team!
Our cover feature writers are amongst our biggest stars: Neil McAllister, Willie Shand, Pat Coulter, Morag Fleming, Simon Whaley and Polly Pullar. Of course, Polly also writes those lovely wildlife features.
We've worked with them for a quite a long time, and have got to know them well. Willie Shand even played the bagpipes at my wedding! Neil, meanwhile, is often to be seen giving talks at our Warner Leisure events. If you live anywhere near Shropshire, you might see Simon Whaley's pics at the start of the regional weather forecast – he comes up as "Snapper Simon"!
Some of our more recent additions include Colleen Shannon and Louise Atkinson on the Health pages, who are both lovely.
Alexandra Campbell has been doing us proud with "Notes From My Garden" every week, and we all enjoy "Maddie's World" from the wonderful Maddie Grigg.
We got to meet Maddie in the flesh for the first time at our 150th birthday party in London earlier this year!
We have an amazing team of freelancers, too. Dawn Geddes, Gillian Thornton, Steve Newman, and Gilly Pickup write so much for us – we quite literally couldn't put the magazine together without them.
How do you decide which place is featured on the cover?
The places are a 50/50 mix of Scottish scenes and English/Welsh/Irish ones. We try to spread them around the country as much as possible, and get a good mix of urban and rural scenes, too. But we're always looking for something striking, and ideally something recognisable.
We work on that mix with our cover feature writers well ahead of time. Many of the features they're writing this year will wait until next year to appear. Readers might notice that a lot of our features from this year have beautiful blue skies – we have last year's gorgeous summer to thank for that!
Of course, we're always a bit dependent on whether the writers can get to these places. Neil's working on getting to the Isles of Scilly for us this year. It can prove a challenge to fit all the travelling in!
We're open to suggestions, too. Last year a reader suggested the Tyne Bridge as it approached its 90th birthday, for example. We were happy to oblige!
Favourite parts of the job?
Reader feedback is the best part of the job. Even a single letter saying that someone enjoyed a feature makes it all worthwhile.
There's so much that's satisfying about what we do, from reading all the letters to putting together the "Between Friends" page, to showcasing some great small charities and social enterprises and giving them a turn in the spotlight.
We've been delighted by our readers' generosity with our "Hand Of Friendship" campaigns over recent years.
How long have you all worked on the "Friend"?
I've been here 12 years, Marion for 11 years. Lisa's just joined the Features team, and Yvonne's been with us for 3½ years now!
As I mentioned, though, both Lisa and Yvonne have worked elsewhere in DC Thomson before.
Any "Friend" connections within the team?
Lisa's great-gran read it, and used to get the annual every year!
Yvonne's granny also used to buy it, and Yvonne used to buy her the Fireside Book every Christmas – and her aunt used to model knitwear for the mag!
My mum's started reading it since I started working here . . .
Tell us a secret about the team.
A PR person once mistakenly called Marion my "receptionist", which I've never let her live down! Though I think I find that more entertaining than she does.
We're also working on another exciting project with stuff from our Archives, though the details are still top-secret at the moment!
Any thoughts on the "Friend" in this milestone 150th Anniversary Year?
I think we look pretty good for being 150!
We're just the latest in a long line of people who have worked really hard to make the magazine as good as it can be for our readers. This anniversary year has really brought that incredible heritage home to us. We've been by peoples' sides through so much of history – it's a real privilege.
We've got an absolutely great Features team at the moment. And I think the magazine is every bit as good as it ever has been, if not better.
And, of course, we're so lucky to have such lovely readers – we do it for them!
Click here to meet more of the team, or read our Team blog here.