Blackberry and Goats' Cheese Quiche
---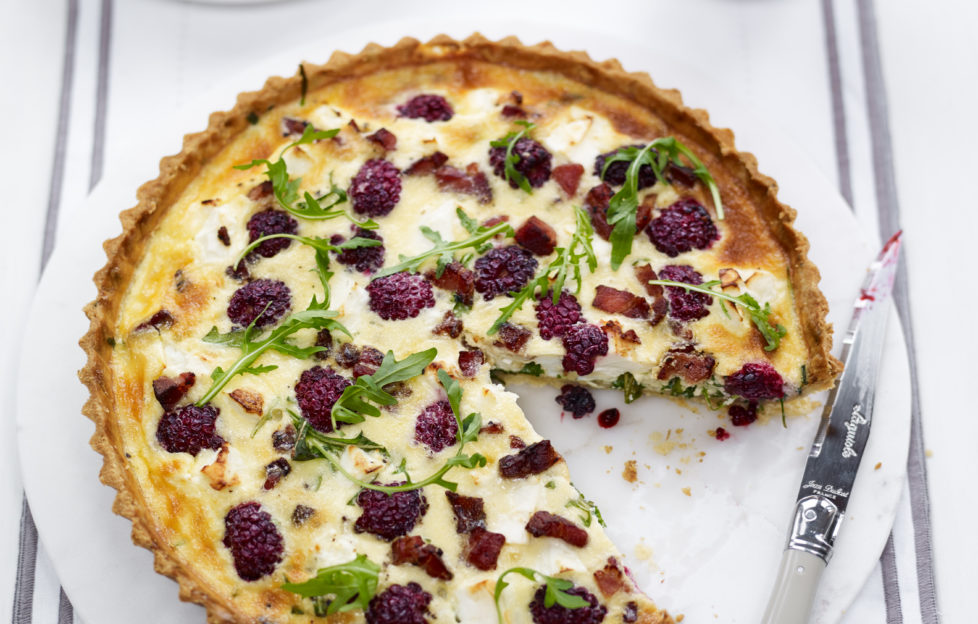 Ingredients
200 g (7 oz) plain flour, plus extra for dusting
¼ tsp sugar
1 tsp salt
1 sprig of rosemary, chopped finely
135 g (4¾ oz) unsalted butter
1 large egg yolk
For the Filling:
100 g (3½ oz) lardons, cooked until crisp
120 g (4¼ oz) goats' cheese, diced
80 g (2¾ oz) blackberries
1 large handful of rocket
3 large eggs
60 ml (2¼ fl oz) whole milk
200 ml (7 fl oz) double cream
Freshly ground black pepper, to taste
By Edd Kimber for BerryWorld.
July is National Picnic Month (not to be confused with National Picnic Week . . . which is in June).
But any excuse to enjoy the outdoors is welcome here at the "Friend". As is the chance to enjoy some tasty treats.
And if you add this delicious quiche to your picnic basket, you're guaranteed to have a good time!
Method:
To make the pastry, place the flour, sugar, salt and rosemary into the bowl of a food processor and pulse to combine. Add the butter and pulse until the mixture resembles coarse breadcrumbs – the odd bigger chunk of butter is fine.
Add 4 tablespoons of ice-cold water and pulse until the pastry forms a ball. Tip the pastry out and use your hands to gently bring together into a uniform dough. Wrap in cling film and refrigerate for an hour before using.
Roll the pastry on a lightly floured work surface until about 2-3 mm (1/8 in) thick. Use the pastry to line a loose-bottomed tart tin, 9 inches in diameter, trimming off any excess. Refrigerate the tart case
for an hour before baking.
Pre-heat oven to 180 deg. C., 350 deg. F., Gas Mark 4.
Line the chilled pastry base with a crumpled piece of parchment paper and fill with baking beans or rice and bake in the pre-heated oven for
25 minutes before removing the parchment and beans and baking for a further 10 to 15 minutes or until the pastry is lightly golden.
Remove from the oven and brush the pastry case with the egg yolk before baking for a minute or so to set the yolk (this helps create a strong barrier so you don't get a soggy bottom).
Start filling the pastry case by adding a layer of rocket and then sprinkle over the blackberries, goats' cheese and bacon. Reserve a few bits of bacon and rocket to sprinkle on top.
In a bowl, whisk together the eggs, milk and cream, seasoning with some black pepper.
Carefully pour the egg mixture into the pastry case, add the reserved bacon and rocket on top.
Place the quiche on to a baking tray. Place into the oven for about 25 minutes or until the egg mixture is set and the top is very lightly browned.
Allow to cool to room temperature before serving.