Pan-Fried Liver And Onions With Bacon
---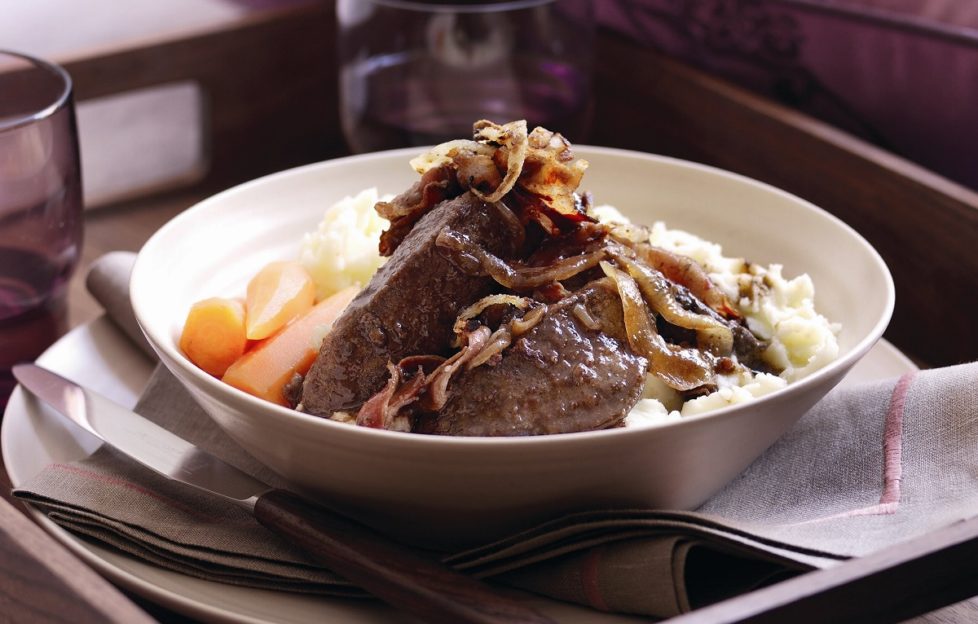 Image courtesy of Simply Beef and Lamb.
Ingredients
1 tbs plain flour
Salt and freshly ground black pepper, to taste
1 small handful fresh sage leaves, chopped finely
450 g (1 lb) lamb's liver, sliced
175 g (6 oz) smoked back or streaky bacon, cut into pieces, or pancetta cubes
1 medium onion, peeled and sliced finely
1 tsp olive oil
3 tbs good, aged balsamic vinegar
250 ml (9 fl oz) hot, good lamb stock
To Serve: mashed potatoes; carrots.
Recipe courtesy of Simply Beef and Lamb.
Sadly less popular these days than it once was, liver is rich in protein and low in calories.
It's also full of essential vitamins and minerals.
If you're hoping to introduce a little into your diet, pan-frying it with onions and bacon is the place to start!
Method
In a shallow bowl mix together the flour, seasoning and sage leaves. Toss the liver in the seasoned flour.
Heat a large non-stick frying-pan and fry the bacon or pancetta and onion for 3 to 4 minutes until crispy. Remove and keep warm.
In the same pan heat the oil and cook the liver for 1 to 2 minutes on each side, to seal. Remove it from the pan and keep warm with the bacon.
Add the balsamic vinegar to the pan and stir in the stock, return the liver and bacon to the pan and simmer for 5 minutes.
Serve with the crispy onions, mashed potatoes and carrots.
For more information on the health benefits of liver, click here.
We have plenty of other recipes on our Cookery pages. Explore them here. You'll definitely find something tasty!
But if it's a good pan-fried meal you're looking for, start with this pan-fried breakfast.