Hearty, Healthy Vegetable Chilli
---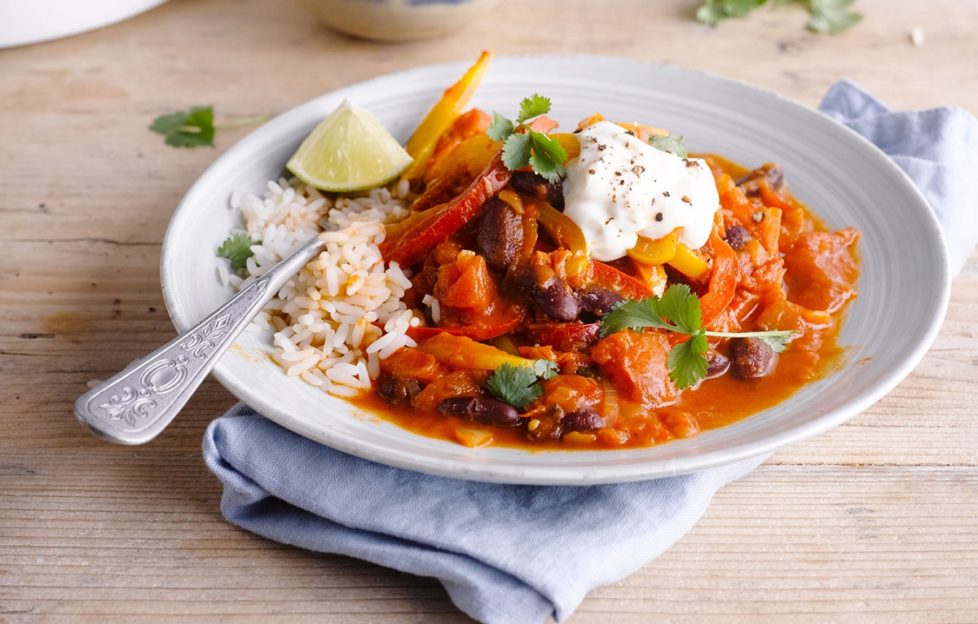 Photograph courtesy of Alpro.
Ingredients
2 onions
2 cloves garlic
2 bell peppers, red and yellow
2 tbs olive oil
2 tsp garam masala
Couple of sprigs of coriander
2 x 400 g can chopped tomatoes
1 vegetable stock cube
1 x 400 g can red kidney beans, drained and rinsed
1 lime, juice, to taste, plus wedges to serve
Salt and freshly ground black pepper, to taste
175 g (6 oz) Alpro Go On Plain
To Serve: bread or rice.
Recipe courtesy of Alpro.
Seeing as it's Organic September, this week's recipe is a nice, healthy vegetable chilli!
Don't worry, you don't have to get the ingredients from your allotment. But it helps . . .
Method
Chop the onion and garlic and halve the peppers. Remove the seeds and chop into thin slices.
Heat the olive oil in a heavy frying-pan with a lid and add the onions and garlic. Let them soften while stirring occasionally.
Add the garam masala and some of the coriander. Stir-fry for 1 minute, then add the tomatoes, peppers and 100 ml (3½ fl oz) water.
Add the crumbled vegetable stock cube and stir. Cover the pan and let simmer for 15 minutes while stirring occasionally.
Add the red kidney beans to the pan and season with lime juice, pepper and salt. Add extra water if it's looking dry.
Serve the vegetable chilli with the remaining coriander, lime, Alpro Go On and bread or rice.
For more vegetarian recipes, click the tag below.
To browse our full archive of delicious recipes, click here.
Remember, we feature a whole host of recipes in every issue of our weekly magazine, and in our Specials. Make sure not to miss your next "Friend" fix by subscribing today. 
For a limited time, new subscribers will receive a free bottle of Emma By Laura Ashley perfume