Writing Prompt Story Starter: Stone Steps
---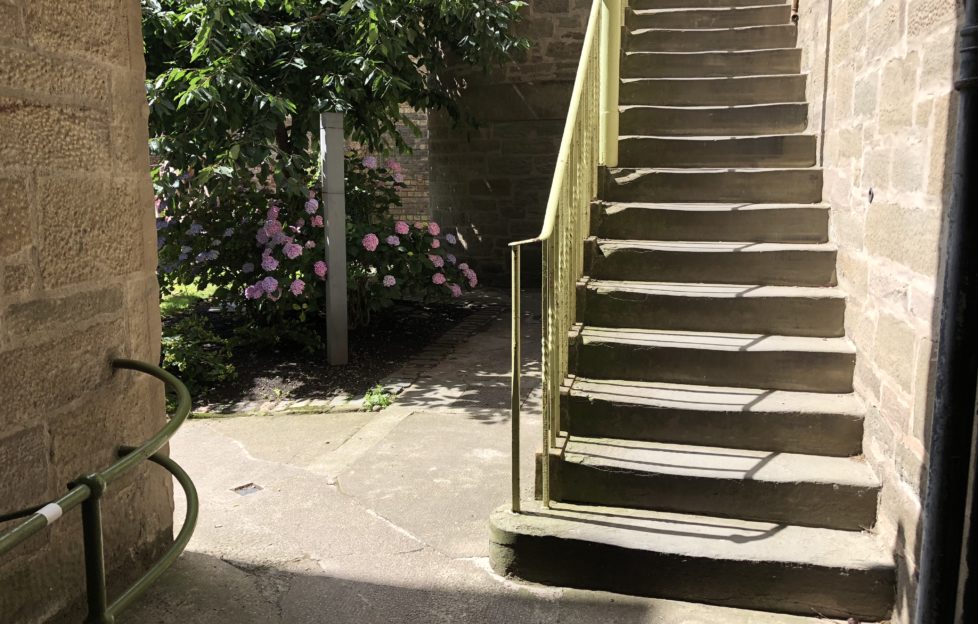 Photograph: Shirley Blair
I get to this point on a Friday and wonder what kind of picture you might like as your latest Writing Prompt Story Starter.
Something that directly suggests a narrative? Something that will require lateral or oblique thinking?
I'm more of a fan of the second, because the resulting stories are always unexpected, varied and all the more rewarding to read.
So, this week, what will it be . . . what will it be? *drums fingers against chin*
How about this one?
This scene is actually very close to my heart because it's where I grew up.
A little bit of history
Scottish industrial cities like Dundee are thick with tenement buildings.
They completely line both sides of long streets close to the city centre, and, more relevantly, close to the jute mills and factories on which Dundee's prosperity was built.
The tenements housed the workers and their families, of course.
Each tenement is usually four storeys high, with two flats on each level, side by side, running from front to back. Stone stairs, accessed by a covered close — the "closie" — rise up the middle of the building, and each pair of flats shares a landing.
We lived in the top flat of one of these tenements until I was eight. Shared a small toilet on the half-landing with our next-door neighbours.
It's funny to think of it now. It sounds centuries ago, but I'm not that old!
These flats are still popular today, remodelled to fit interior bathrooms into the spacious cupboards and sculleries they used to have.
Our close actually accessed two blocks of flats, because they were built on and round a corner.
And this is the stairway to the other block, which faced on to a main street.
This stairway rose up to one corner of the building, and to a "plettie" (Dundonian for a platform, I guess) that ran along the back side of the building, with the flats' front doors opening off it.
All those families . .
Can you imagine the number of children that played together in the shared drying green?
And all the footsteps that gradually wore away those stone steps?
Has this story starter inspired you? If not, click here for more of Fiction Ed Shirley's prompts.