Celebrating Guide Dog Week 2019
---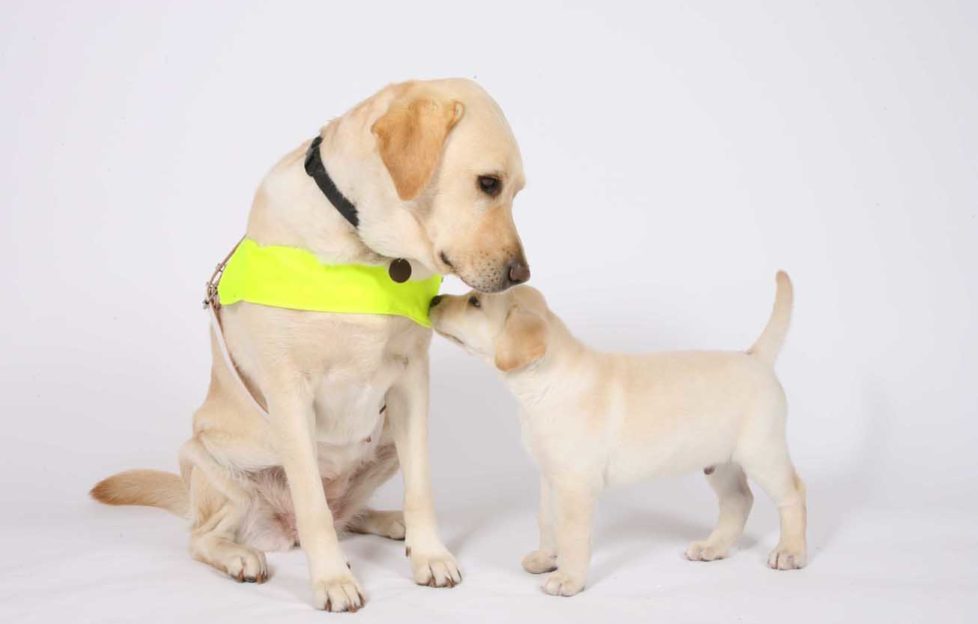 Photograph by Guide Dogs.
This week is Guide Dog Week!
We've decided to mark the occasion by looking back to 2016, when we found out all about the guide dog training process in one of our Specials. 
---
Dogs may be man's best friend, but for Allan Milne his black Labrador Donnie is a lifeline.
Allan is totally blind, having been diagnosed with a degenerative eye condition at the age of twenty-one. He had his first guide dog in his early forties and Donnie is his third.
"I can tell if the sun is shining but that's about it," Allan explains. "A guide dog helps give me my independence. If I didn't have Donnie, I'd just be sitting in the house all day."
Guide dogs like Donnie offer an invaluable service to the visually impaired, helping their owners move around safely.
Bred at the National Breeding Centre in Leamington, they come to the Guide Dogs Training School in Forfar as puppies at around six weeks old.
Chosen for their intelligence and special guiding ability, these dogs include golden retrievers, Labrador retrievers, German shepherds and even cross-breeds. They are puppy walked and homed by volunteers before going on to advanced training.
When Allan was matched with Donnie, the pair had to familiarise themselves with the main routes he'd be taking in and around his home.
"I'm in control, the dog is my assistant," he says. "I can't go somewhere I don't know, but if I can remember how to get there, the dog can.
"Having a guide dog lets you do things you wouldn't be able to otherwise. Donnie has made a huge difference to my life. Having to take Donnie out for walks is good for him and me, even if it's just to the shops or to post a letter."
Awe-inspiring
Watching a group of guide dogs in action at the training school in Forfar is awe-inspiring.
The school provides "foundation" training for around 200 guide dogs each year. The team here includes dog care and welfare staff, puppy training supervisors and training and support staff.
Dogs are trained to walk in straight lines, avoid obstacles, stop at kerbs and stairs and learn how to judge potential dangers before crossing the street.
They need to keep pace to the left and just ahead of the handler, responding to hand gestures as well as verbal commands.
The school provides a clean and comfortable environment for the 80 dogs based there.
"The design of the kennels reflects the latest thinking in dog welfare. It's in an L-shape, so the dogs can see and interact with each other and staff," Charlotte Finch, head of the school, tells me.
Dogs come here when they're around 14 months, and usually stay until they are 20 months.
"There are around three hundred and fifty puppy walkers across Scotland and Northern Ireland at the moment and we're looking for volunteer puppy walkers and boarders for our dogs in training."
Puppy walking prepares guide dog puppies for their working life by familiarising them with different environments, including the home, towns and public transport.
Walkers provide the full-time care and education of a puppy from six weeks until they're between twelve and fourteen months old. They then return to Guide Dogs to begin formal training in Forfar.
Volunteers Ross and Terry MacCallum took on 14-week-old black Lab/retriever cross Yancy in 2014. When she left the MacCallum home to continue her advanced training, the couple found it tough.
A lump in the throat
"I can't pretend there wasn't a lump in the throat when Yancy went back to the centre with her trainer.
"But the fact there wasn't a backward glance meant she had moved on well and settled," Terry tells me. "Just what we wanted."
Welcoming their second puppy, Jasmin, helped.
"As Yancy advanced, we were right back to the beginning with Jasmin. We're following much the same pattern with Jasmin – where we go, she goes.
"She's been shopping, on the bus, at pipe band practices, in church, at guide dog meetings and made friends with students at the local university."
Would they consider a third puppy?
"We certainly intend to." Ross nods. "I don't think we realised just how rewarding puppy walking can be. It could become addictive!"
Find out more about the work of the Guide Dogs organisation by clicking here.
If you liked this, you might also enjoy reading about Doug the Pug, the dog that helps children with their reading confidence.