Knitting Preview: January 18, 2020 Issue
---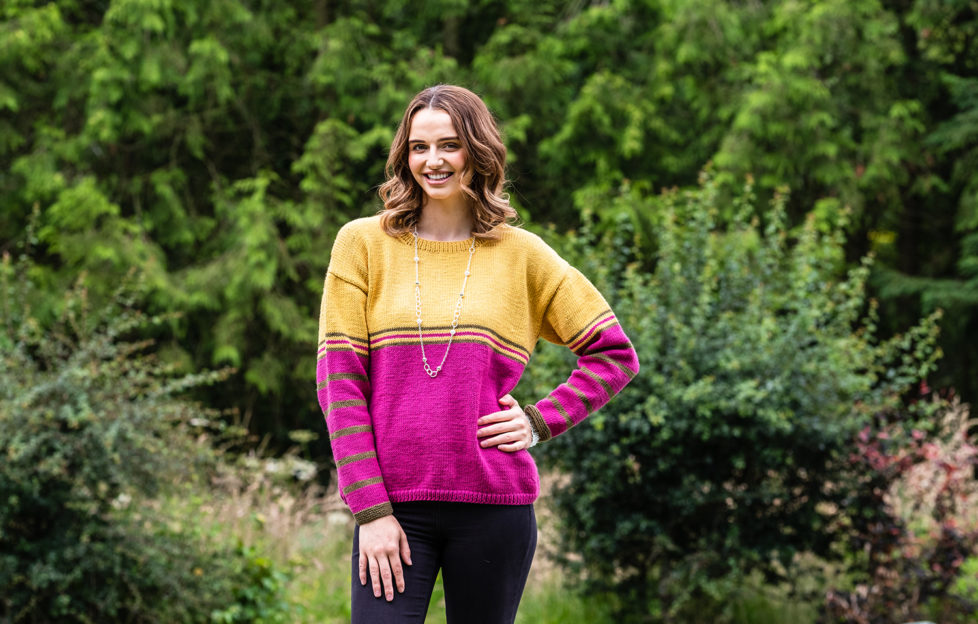 Photograph by Ally Stuart.
We are talking stripes in this week's knitting preview, with this colourful sweater.
It may be dull and grey outside but this striped number will brighten up your day.
It comes in six sizes ranging from 76/81 cm (30/32 ins) to 127/132 cm (50/52 ins). With an ease of 14/ cm (6/4 ins) it is a comfortable fit. It is easy on the pocket, too, with costs ranging from around £12 – £16.
There are three shades of Stylecraft Belissima DK used.
The bright Raspberry Riot (3924) contrasts with Mellow Yellow (3925) (a great favourite over the last few months) and the Overly Olive stripes (3927) complement both.
For more information about the yarn, which comes in 100g balls, or to find a stockist, visit www.stylecraft-yarns.co.uk.
We have graded this as an easy design, worked in stocking-stitch (knit one row, purl one row) throughout.
If you have never worked in stripes before there are lots of tutorials online.
We would suggest you catch in the yarns not in use where the stripes are close together. but if you prefer to break them off that is fine, too.
Just remember to sew in all ends when you are making up the sweater.
We love this design and hope you think it is along the right lines, too.
If our knitting preview has encouraged you to pick up a copy of "The People's Friend", why not pick up a subscription?
Click here to head back to our homepage.