Writing Prompt Story Starter: Berlin Directions
---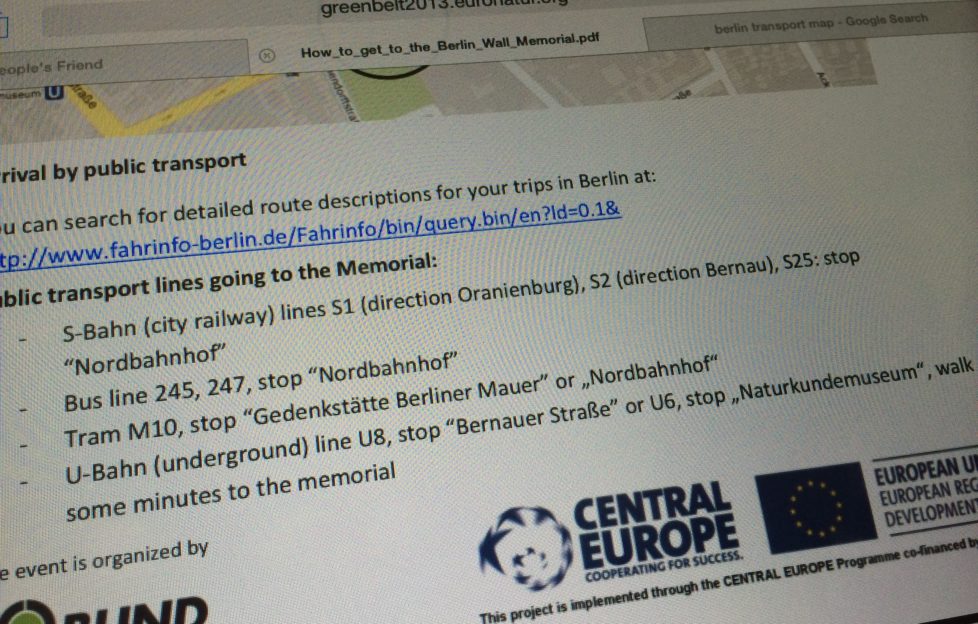 Photograph by Shirley Blair.
As you can see, today's Story Starter Writing Prompt is a screen grab of the directions for travelling by public transport to the Nordbahnhof in Berlin.
We were heading for Bernauer Strasse, which is one of those classic sites in black and white photographs of the Berlin Wall. You'll have seen them.
One shows a family of three running across the road with their little suitcases and belongings wrapped up in a blanket. A fourth family member is still to exit the window they clambered out of.
Another shows one person dangling from the grip of another, who's leaning out of an upstairs window.
The street was lined by apartment blocks, and the wall was constructed right slap bang alongside them, using the buildings themselves as part of it.
The building became the east, the street outside the free west. Windows were bricked up . . . crazy.
How do you approach a trip?
There's an excellent memorial at the site now, commemorating all the people who tried to escape — both successfully and tragically. By running, via tunnels . . . so brave.
The nearest station was the Bernauer Straße U-Bahn station, itself located inside East Berlin. It had an entrance onto Bernauer Straße — the west — and it became a ghost station with all its entrances sealed off.
As I said: crazy.
Anyway, back to the image as a Story Starter.
The screen grab says something about how one approaches a trip. Do you do your homework, plan every step and be prepared for anything, or wing it?
Be modern and follow the satnav on your phone? Be a bit more old school with a screen grab like this? Or more old school still and follow a trusty foldable paper map?
The alternative approaches characterise different types of people.
What if two opposites are on a break together? That could test tolerance and patience.
Over to you?
We're particularly looking for 3000 words at the moment. Good meaty stories with real depth.
If you're keen to get writing, you can pick another Story Starter from Shirley's archive. Click here to take a look.