Knitting Preview: February 8, 2020 Issue
---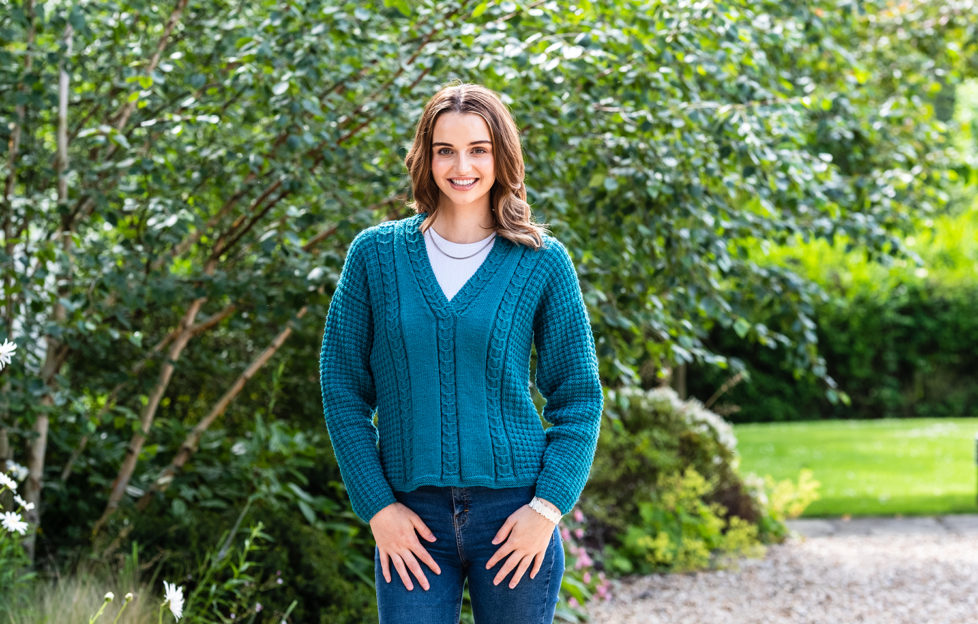 Photograph by Ally Stuart.
This week, our knitting preview showcases this lovely cabled and textured V-neck sweater.
Available in five sizes ranging from 71/76 cm (28/30 ins) to 112 cm (44 ins), this top knits up true to size.
We've worked the design in King Cole Luxury Merino DK, a pure wool yarn that offers warmth and comfort.
We have chosen the shade Teal (2634), but there are over 30 shades in the range if you prefer something else.
You will also need 3mm, 3.25 mm and 4 mm needles plus a cable needle.
The textured pattern on the sleeves and to the sides of the cables is created over a 4-row repeat.
We recommend working the sleeves first, which established the repeat in your mind.
The back and front both incorporate cable patterns, and these are worked over a 6-row repeat. This means you do need to keep track of both patterns at the same time. Many knitters keep a tally on paper and mark rows as they go.
The cables either side of the neck make shaping and counting a little easier, and there is no armhole shaping to worry about.
With the mix of patterns and a V-neck to work, we have marked this design as intermediate.
There are no difficult stitches but counting rows is essential.
We are sure you will agree the finished garment is a head turner.
If this knitting preview has encouraged the crafter in you to seek out the pattern, our issue will be on sale February 8. 
You can subscribe to "The People's Friend" by clicking here.
Learn more about what's in every issue by clicking here.