Knitting Preview: February 22 Issue
---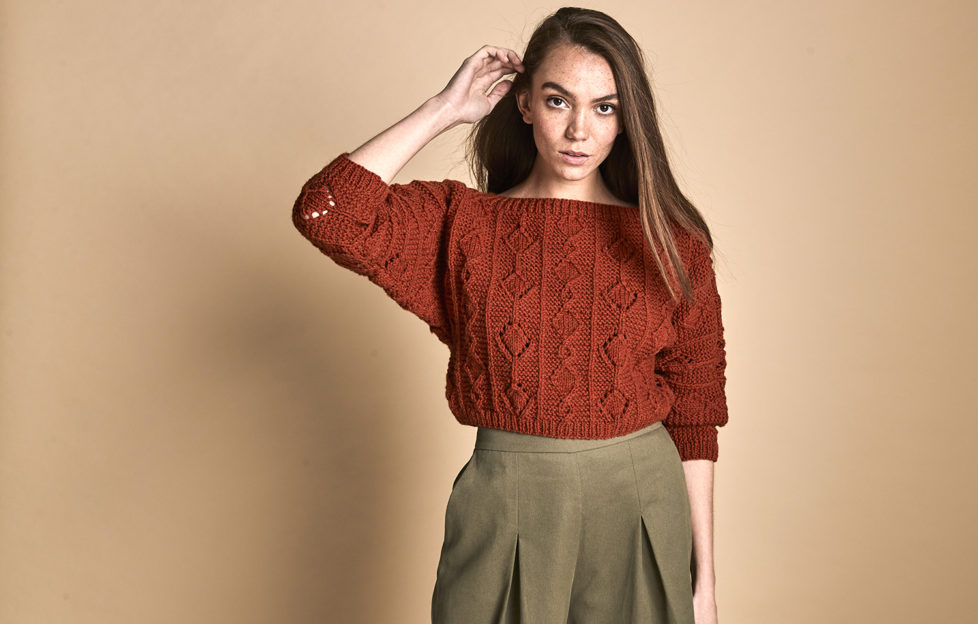 Photograph courtesy of The Home Of Craft by Thomas B Ramsden & Co Ltd.
We're back to a knitting preview this week; in our February 22 issue, we're bringing you a stylish batwing top.
This is a really eye-catching top, worked in Wendy Pure Wool Aran.
This colour photographed is Pheasant (5624). There are another seven shades in the range. To see them, or to find details of your local stockist, visit www.thehomeofcraft.co.uk.
The top comes in three sizes — 76/81 cm (30/32 ins), 86/91 cm (34/36 ins) and 97/102 (38/40 ins). Actual size is approx. 21/16 cm (8/6 ins) larger.
Note that it is a short, almost cropped length, 38 cm (15 ins) – 41 cm (16 ins).
We have graded this as suitable for experienced knitters.
The garment is worked in two pieces. We recommend using a circular needle due to the number of stitches you will be working with.
The diamond pattern is worked over a 22-row repeat. It is important to keep this pattern correct while increasing stitches for the sleeves.
We are sure you will love it when complete, a beautiful reminder that diamonds are a girl's best friend.
Knitting preview piqued your interest? Click here for more great craft content.
Or you can subscribe to "The People's Friend" and make sure you never miss another one of our great patterns and projects.