Knitting Preview: February 29, 2020 Issue
---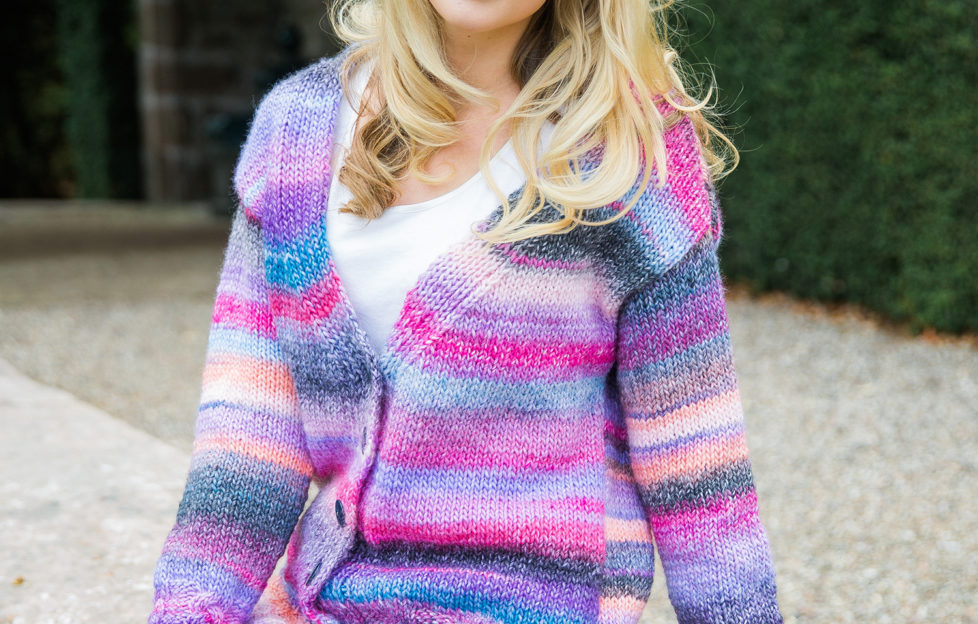 Photograph courtesy of Rico Yarns.
Get ready for spring with our knitting preview of this colourful longer-line cardigan.
It's a stunning design.
It is worked in Rico Design Creative Melange Chunky, a wool and acrylic mix and features cabled edgings and a deep V neckline.
The cardigan comes in five sizes, ranging from 81/86 cm (32/34 ins) to 122/127 cm (48/50 ins). Actual size is approx. 19/14 cm (7½/5½ ins) bigger, giving you a comfortable fit.
The shade we have chosen is Purple Fuchsia, a lovely mix featuring blues, pinks, peaches — even greys — in an eye-catching way.
There are plenty of other shades to choose from if you prefer something else. You can view the shade selection and order your yarn at www.woolwarehouse.co.uk.
As this is a self-patterning yarn, no two garments will be exactly the same, so your cardigan will be unique to you.
Finally, we have graded this as easy to make.
The rib is worked over a 4-row repeat, which requires a simple cable on alternate rows. Follow the instructions in the abbreviations if you have not worked a cable before, they are very straightforward.
You work the main body of the cardigan in stocking-stitch (knit 1 row, and purl 1 row), with the ribbed bands worked as part of the fronts.
Because this is a chunky yarn, the garment should knit up quickly.
We love this bright and colourful design and hope you do, too.
Knitting preview piqued your interest? Click here for more great craft content.
Or you can subscribe to "The People's Friend" here. That way you'll never miss another one of our great patterns and projects!