Knitting Preview: March 28, 2020 Issue
---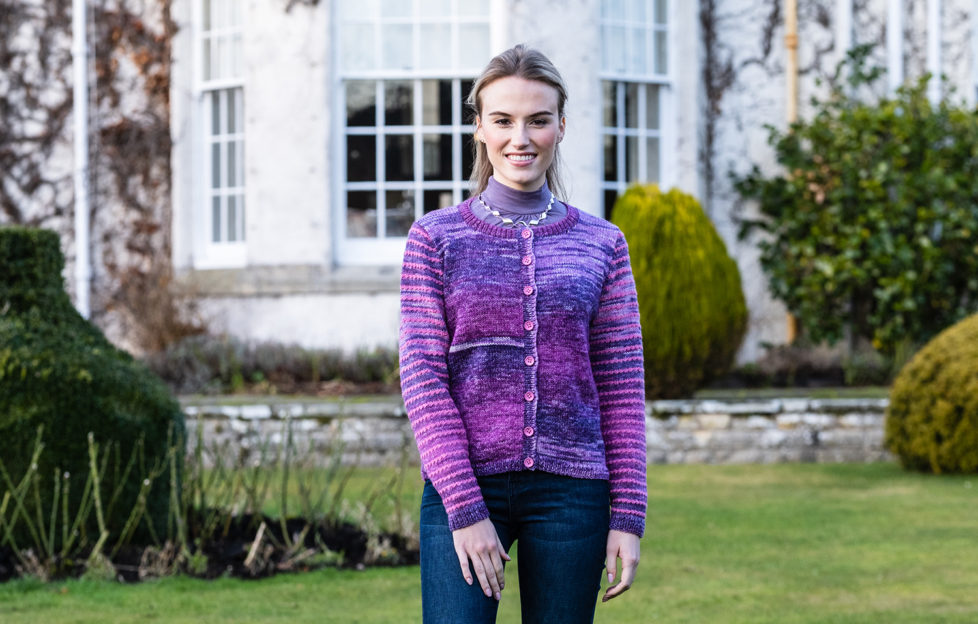 Photograph by Ally Stuart.
In this knitting preview, we're turning heads in a stunning spring cardigan.
Our simple cardigan showcases the variegated yarn, Stylecraft Life Changes DK, perfectly. The shade is Plums (2707) a stunning mix of purple/heather shades.
We have teamed it up with Stylecraft Bellissima DK in Flaming Fuchsia (3978) for the stripes in the sleeves.  To find out more about both yarns and your nearest stockist, visit www.stylecraftyarns.co.uk.
Our instructions are for six sizes ranging from 76/81 cm (30/32 ins) to 127/132 cm (50/52 ins). Actual size is around 14/9 cm (5½/3½ ins) bigger giving a comfortable fit.
This is a simple design to work, the fronts and back are in st-st (knit 1 row, purl 1 row) and the sleeves have a six-row repeat of st-st and a rib row.
Finally, the right choice of button is essential to finish off a garment, so don't forget to visit www.duttonsforbuttons.co.uk where you can see a great selection including the ones we used. You will need eight in all.
We love this cardigan in its heather hues, and we hope you do, too.
Knitting preview piqued your interest? Click here for more great craft content.
Or you can subscribe to "The People's Friend" here. That way you'll never miss another one of our great patterns and projects!
A digital subscription means you can download every issue straight to your laptop, tablet or phone. Click here for more details.