Knitting Preview: May 16, 2020 Issue
---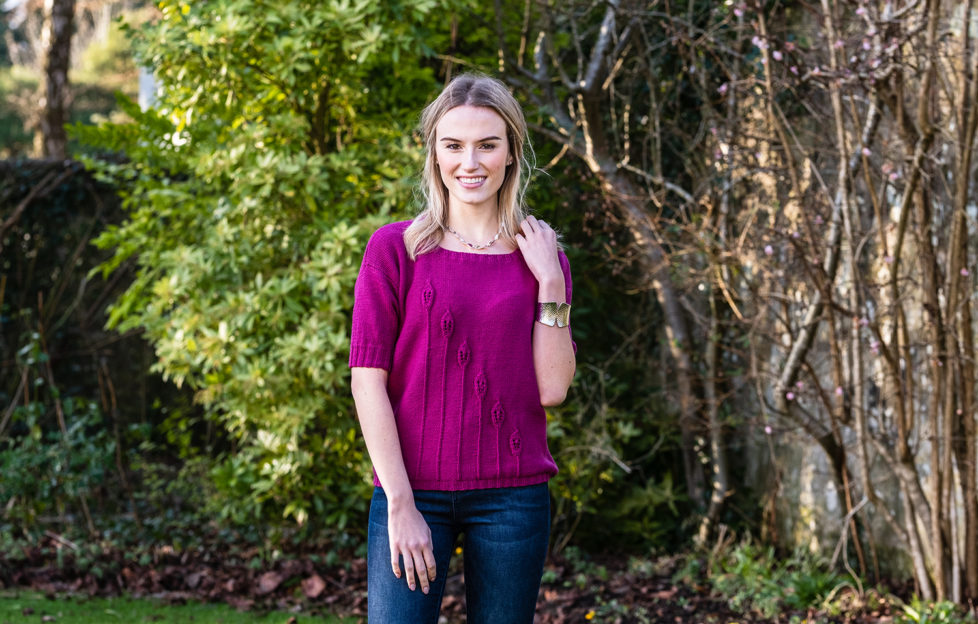 Photograph by Ally Stuart.
Welcome to our first look into the May 16 issue of "The People's Friend": our knitting preview!
Nature has inspired this lovely top, which features a graduated leaf pattern.
We have chosen Rico Design Essentials Merino DK in the vibrant shade of Berry (15) for this design. The 100% Merino wool yarn is lovely and soft next to the skin and very hard wearing.
If you prefer another shade, there are 47 in the range from which to choose.
Sizes range from 76/81 cm (30/32 ins) to 117/122 cm (46/48 ins). Actual size is 13/8 cm (5/3 ins) bigger. The sleeve comes to just about the elbow.
The leaf motif is repeated on the front and the back, and is worked over an 18-row repeat. But because it is staggered up the design, the entire pattern placement is over 122 rows.
We have marked this as intermediate. The leaf motif itself is worked on a basic 2 stitches, which increase to 7 stitches before decreasing back again.
There are no tricky stitches, but you do need to count and keep track of where you are in the pattern.
We're sure you will agree that it is well worth the effort for a lovely top, which will be perfect for the warmer days (we hope!) ahead.
Knitting preview piqued your interest? Click here for more great content.
Or you can subscribe to "The People's Friend" here. That way you'll never miss another one of our great patterns and projects!
A digital subscription means you can download every issue straight to your laptop, tablet or phone. Click here for more details.