Pat Coulter Visits The Donkey Sanctuary
---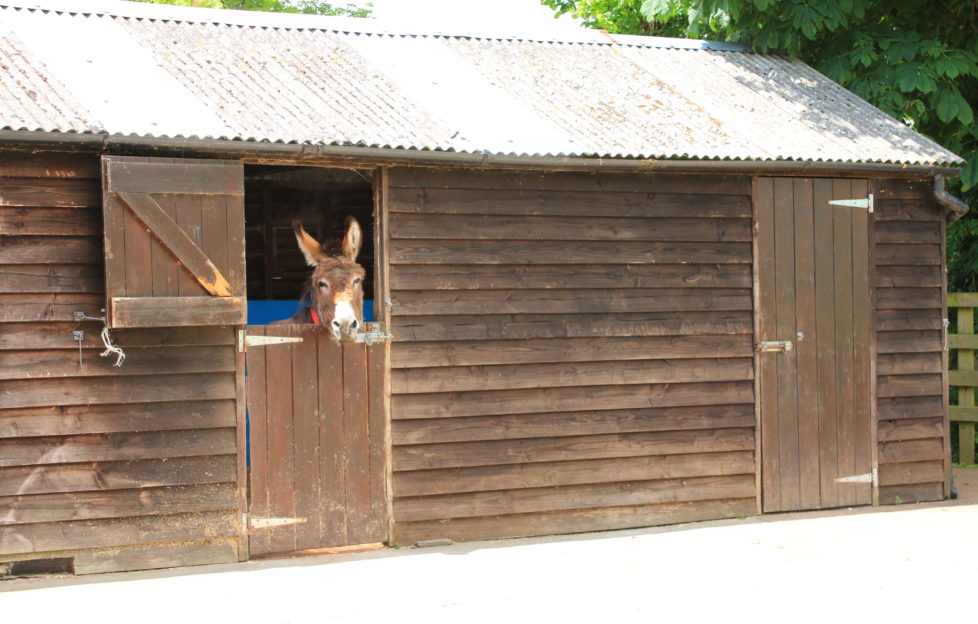 Photograph by Pat Coulter.
International Donkey Week runs from May 12-19.
To mark the occasion, we're looking back at the time Pat Coulter took a trip to The Donkey Sanctuary.
This article first appeared in the January 23, 2019 issue of "The People's Friend".
---
There's a little piece of Devon that's for ever donkey heaven, thanks to the devotion of one lady, her unerring vision and her love of donkeys.
The Donkey Sanctuary is a field of dreams, where thousands of donkeys have found safe refuge over the past 50 years.
It offers a haven for these gentle, intelligent and sociable creatures. Here they can live out their days with the best of care and love from staff, volunteers and visitors alike.
The late Dr Elisabeth (Betty) Svendsen MBE founded The Donkey Sanctuary in 1969.
Her love of donkeys was unquestionable; her passion undeniable. The legacy of this extraordinary lady is an international charity with far-reaching influence, which helps to alleviate the enduring plight of donkeys and mules around the globe.
The charity campaigns in some 30 countries, from Spain to Nepal, Ireland to Mexico. It educates donkey owners and handlers, and much more besides.
Betty Svendsen's vision, upheld to this day, was of "a world where donkeys and mules live free from suffering and their contribution to humanity is fully valued".
A reassuring sense of wellbeing and purposefulness
In recognition of this momentous anniversary, we're visiting Donkey Sanctuary HQ just outside Sidmouth, on Devon's dramatic Jurassic Coast.
Entry is free, and there's a tail-wagging, dog-friendly welcome for Poppy, too. This is testament to Betty Svendsen's generous spirit. She believed that no-one who was kind-hearted enough to visit and support the donkeys should be expected to pay.
Of course, the Sanctuary gratefully receives all donations – and puts them to good use. So I'm only too happy to pop my contribution into the honesty box.
Poppy's already making friends with one of the residents, happily touching noses with a cute, gentle donkey, who is curious to make her acquaintance.
I'm soon enveloped by the sanctuary's reassuring sense of wellbeing and purposefulness. It's heart-warming to see herds of care-free donkeys happily grazing in buttercup-filled paddocks, joyfully cantering about with their playmates.
It's an uplifting and inspirational place
It's an uplifting and inspirational place, where compassion has overcome cruelty, and contentment has replaced suffering.
Here at the Donkey Sanctuary, the story of how the charity came about unfolds.
Born in Yorkshire, Betty began her affinity with donkeys at a young age, urging her parents to make car journey detours so she could say "hello" to some donkeys in a field. When her own young family came along, an ingenious "Dragon's Den"-style, problem-solving design for drying wet terry nappies helped with financial stability.
Betty and her husband were then able to buy the Salston Hotel in Devon.
"I must admit," she recalled in her autobiography, "the six acres of ground attracted me, as I wanted a donkey!"
Enter Naughty Face in 1969, a beautiful grey donkey with deep limpid eyes and a mournful bray that woke all the hotel guests far too early every morning!
And so it all began.
Wonderfully huggable
In the cleanest stable yard I've ever seen, donkeys are ambling about, amiably meeting and greeting visitors.
I notice every donkey is wearing a colour-coded collar, which records their intake number and name.
Red collars are for geldings, and yellow signify mares. Then there's pink for blind or partially sighted donkeys. Other colours indicate whether a particular animal needs an extra daily feed or perhaps a special medicine.
Like Blueberry Pie, who's loving the attention, donkeys exude bonhomie, encouraging younger visitors not to be shy or fearful of them, and to simply trust their gentle nature.
After all, they are wonderfully huggable. Betty Svendsen knew only too well how therapeutic donkeys could be. In fact, she pioneered donkey-assisted therapy for children with additional needs.
"Donkeys have a unique presence; a zen-like, grounded quality," Caron Whaley, Director of Donkey-Assisted Therapy, explains.
"As social creatures, donkeys are aware of their environment and the people within it.
"I've witnessed sessions where people who struggle to communicate or connect emotionally somehow seem to be able to connect with our donkeys."
A heart-warming bond
A wonderful example is the heart-warming bond forged between twenty three-year-old Emily and miniature donkey Juniper.
Emily is autistic and has both limited vision and hearing. The duo's friendship is mutually beneficial, with Juniper enjoying interacting with Emily, thus enriching his life as well.
When he brays, it makes Emily giggle – and she always ensures she says goodbye to her pal Juniper before leaving.
I discover many visitors are Donkey Sanctuary regulars, such as Tom and Brenda from Kent.
"We spent our honeymoon in Sidmouth twenty-five years ago. We love to come here every year to see what Tom calls 'our' donkeys," Brenda explains. "As a special anniversary present, our daughter adopted a donkey on our behalf, and we're here to meet him.
"When we're back home, we can still see how he's getting on from live webcams on the sanctuary's website."
Every donkey has a story to tell
Every donkey has a story to tell, and none more so than Teddy, the blind donkey.
Teddy is a truly inspirational animal, and has overcome great odds to live a full and happy life. Sadly, he has been blind since birth, but his determination has shone through.
I'm amazed to learn about his perseverance in overcoming his challenging disability.
He can neatly avoid obstacles, is able to sniff out when food is coming, can hear the grooms driving up the road before anyone else, and generally manages to be first in line when there's grooming and a cuddle on offer.
I'm smitten with this teddy bear of a donkey, who is incredibly loving and looks as cute as can be. He is fortunate to have Lucky as his pal – a sighted donkey who's always there by his side to help guide him along.
It's astonishing to hear about the donkey champions who help support the charity in so many ingenious ways.
Helen McAteer is a keen knitter, and has been making woolly donkeys to sell in the HQ gift shop and online. When she first came across a picture of a "woolly", she was literally hooked.
"I have always enjoyed knitting. It's a perfect way to support the Donkey Sanctuary.
"I usually knit about two donkeys a week, and find that knitting them relaxes me and helps soothe away the stresses of a busy day.
"I'm still enjoying knitting them, and am now well past my hundredth donkey!"
Viv has been a staunch Donkey Sanctuary supporter for over 30 years.
Rather than ask for presents for her recent 90th birthday, she thoughtfully asked family and friends to make donations to the Donkey Sanctuary instead.
The very best of care
On our tour, we meet one unfortunate donkey with a bandaged leg. It's a reminder that many new inmates often need vet care and rehabilitation.
The Sanctuary built the on-site donkey hospital in 1980. Poorly donkeys are can expect the very best of care. The ultra-modern hospital houses an equine operating theatre with preparation rooms, stables for patients in need of extra care, and a range of up-to-date diagnostic facilities.
Just like us when we're feeling unwell, donkeys appreciate the nearness of loved ones. So poorly donkeys arrive with their long-eared companions to avoid the stress of being separated from their soulmates.
The hospital is staffed by a full-time veterinary and nursing team, along with support staff including equine dentists and laboratory technicians.
It's time for tea and cake in the café, where pictures of Betty and her loving donkeys adorn the walls. Revived and refreshed, we strike out on one of the wonderful walks from the sanctuary.
Back at Donkey HQ, it's now Betty Svendsen's granddaughter, Dawn, who continues the unending work. She is ever mindful there are always new challenges to overcome.
"I always feel that the donkeys, once in the safety of our sanctuaries, are the lucky ones.
"They're our greatest ambassadors, helping us to raise awareness and further funds to reach out to those in desperate plight across the globe."
How you can help
Foster a donkey or mule

Make a donation or grant towards their work

Remember the Donkey Sanctuary in your will

Get crafty and become a woolly donkey knitter. If you would like to knit, crochet or craft a donkey, simply click on the "Support Us" link on their website.
---
We are currently required to avoid all unnecessary travel. Keep this destination in mind for when restrictions are lifted.
For more fantastic Features from "The People's Friend", click here.