Knitting And Crochet Preview: May 23, 2020 Issue
---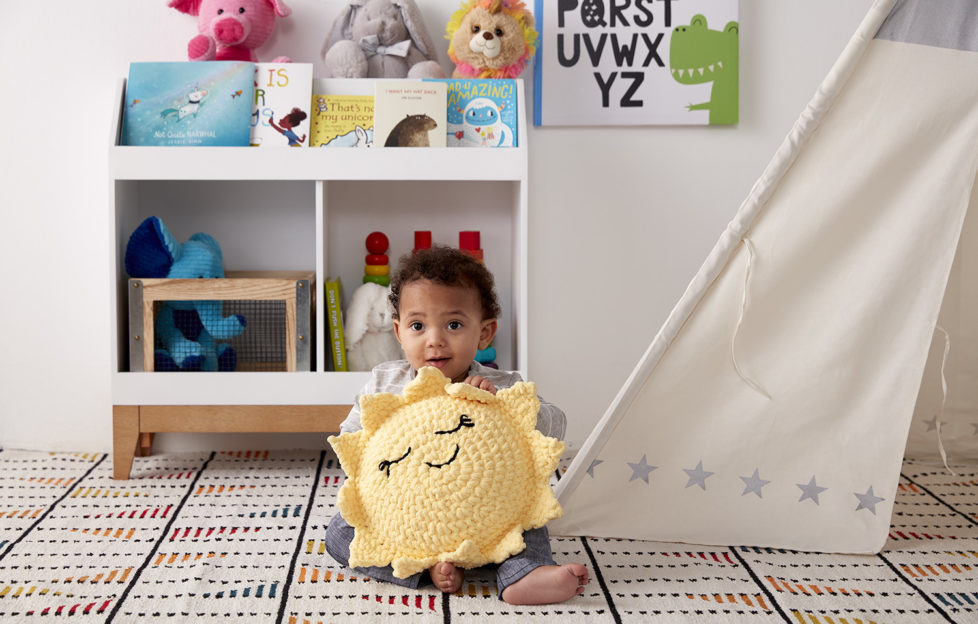 Photograph courtesy of Bernat Yarns.
We have double value for you this week: a knitting and crochet preview!
Take a look at these fun cushions — one to knit and one to crochet.
Our knitted cushion is worked in Bernat Baby Velvet, a beautiful yarn that, as the name suggests, is soft to the touch. You can view the shades available and order direct at www.woolwarehouse.co.uk.
The front and back of the cushion consist of a simple rib throughout, with the bunny ears worked in st-st. Once the ear pieces have been worked, you have the choice of either stitching them together or crocheting a chain stitch to attach.
When the cushion is complete, all you need is a 35.5 cm (14 ins) square cushion pad. We usually advise waiting until the cushion is complete to buy this in case you want to adjust the size.
Crochet fans will love our sun cushion, which is worked in Bernat Baby Blanket.
The bright yellow we have chosen seems the obvious choice but if you would prefer to work in another shade, you can view the range and order direct from www.readicut.co.uk.
We have marked this as easy as it is mostly in double crochet.
You will need a little black DK yarn to embroider on the face and some toy stuffing to stuff the cushion.
We are sure you will love both these quick and easy designs.
Knitting and crochet preview piqued your interest? Click here for more great content.
Or you can subscribe to "The People's Friend" here. That way you'll never miss another one of our great patterns and projects!
A digital subscription means you can download every issue straight to your laptop, tablet or phone. Click here for more details.