Craft Preview: May 30, 2020 Issue
---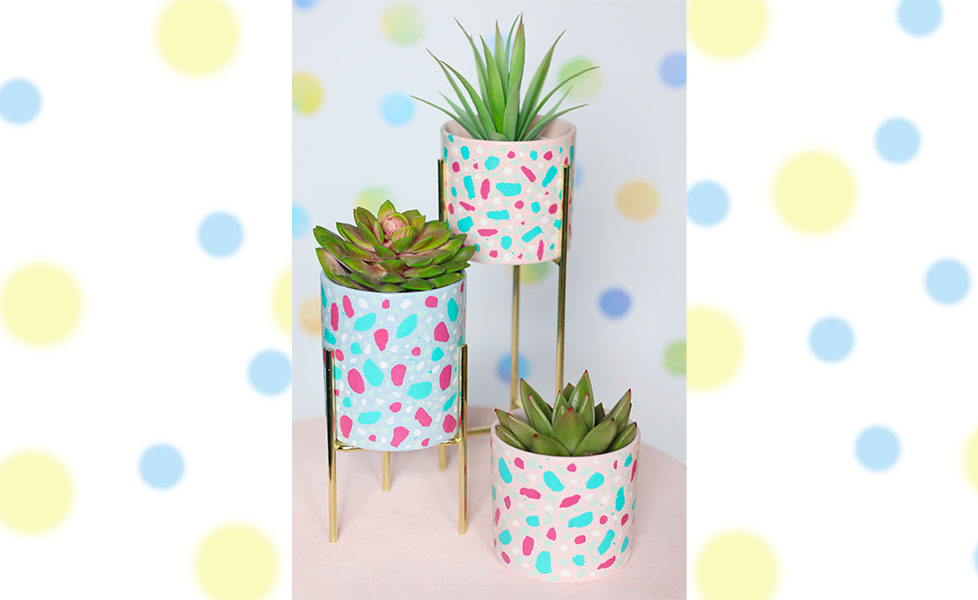 Photograph courtesy of Rust-Oleum.
We have a timely idea for you in this week's craft preview: a clever way to smarten up your garden pots.
If you have some plant pots that are looking a bit tired and shabby, we can show you how to brighten them up with a terrazzo-inspired theme.
These pots are very simple to make if you follow our step-by-step instructions.
You will need a few things for this project:
Rust-Oleum Surface Primer

Chalky Finish Furniture Paint in the colour(s) of your choice (we have gone for a pale blue and pink)

Painter's Touch in three or four shades

Crystal Clear to add a protective coating when your design is finished.
Some old newspaper or a dust sheet and a selection of small paint brushes complete the list.
You will need to work in a well-ventilated area — outdoors is perfect — and keep away from pets and young children.
Every step is simple but will take time, as you need to allow the paint to dry between coats.
Rust-Oleum products are readily available in many DIY and craft stores. You can also order them from www.homebase.co.uk.
And if you love our terrazzo theme, you can extend it to many other household accessories, too — including jars, tubs and vases.
Craft preview piqued your interest? Click here for more great content.
Or you can subscribe to "The People's Friend" here. That way you'll never miss another one of our great patterns and projects!
A digital subscription means you can download every issue straight to your laptop, tablet or phone. Click here for more details.