Knitting Preview: June 6, 2020 Issue
---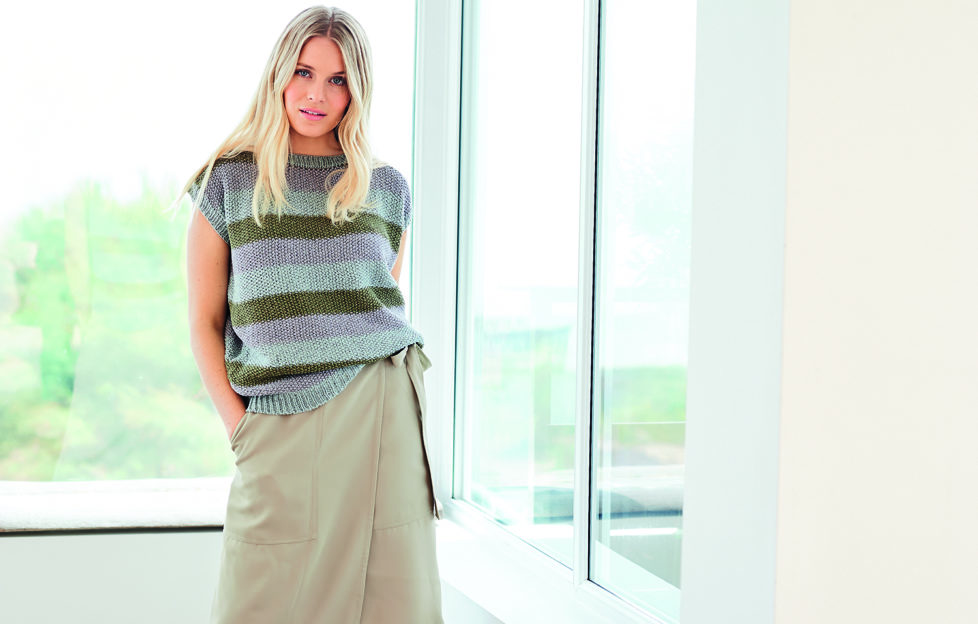 Photograph courtesy of Rico Yarns.
We have a top that is twice as nice in this week's knitting preview. You can choose how to wear it!
You can wear this top on its own on warmer days, or as a slipover if you prefer it over a blouse or t-shirt.
In addition, we have shown it worked in two ways. Firstly we have it in a striped version and then in a solid colour.
In both cases, the yarn used is Rico Fashion Cotton Métallisé DK, a lovely metallic cotton yarn with a touch of sparkle. Perfect for a sunny day.
The striped version is worked in Zinc (021), Iron (020) and Moss Agate (022) while we have used Quartz (018) for the plain version.
If you would like to find out more about the yarn and the shades available, or wish to order online, visit www.deramores.com.
The top comes in three sizes – 81/86 cm (32/34 ins), 91/97 cm (36/38 ins) and 102/107 cm (40/42 ins). Actual size is around 31/26 cm (12/10 ins) bigger as it is designer to be a loose fit.
Apart from the rib and edgings, the entire top is worked in a one- row moss-stitch repeat – nice and easy! If you are working a larger size, you may like to use a circular needle but still work in rows.
We hope you will find this top a really versatile addition to your summer wardrobe.
Knitting preview piqued your interest? Click here for more great content.
Or you can subscribe to "The People's Friend" here. That way you'll never miss another one of our great patterns and projects!
A digital subscription means you can download every issue straight to your laptop, tablet or phone. Click here for more details.