Quorn Vegetarian Steak Strips, Ale And Mushroom Pie
---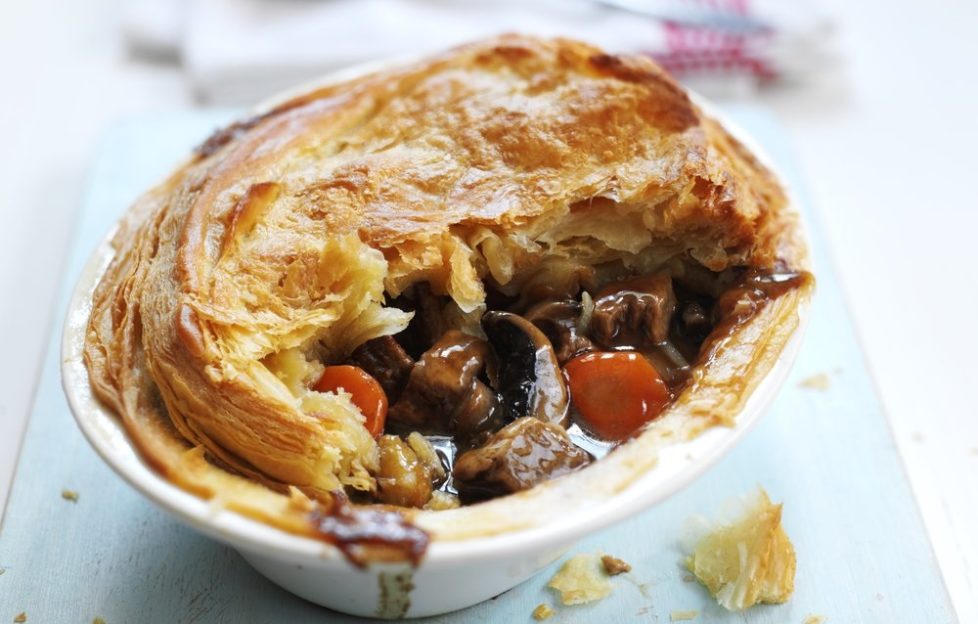 Image courtesy of Quorn.
Ingredients
1 tbs olive oil
1 small onion, chopped finely
1 carrot, peeled and sliced thinly
1 stick celery, sliced thinly
250 g (9 oz) mushrooms, sliced – portobello are best if you can get them
1 clove garlic, crushed
300 g (10½ oz) Quorn Vegetarian Steak Strips
½ tsp brown sugar
1½ tsp cornflour
100 ml (3½ fl oz) pale ale
1 vegetable stock cube
1 generous teaspoon tomato purée
½ tsp yeast extract
½ tsp dried thyme
½ tsp dried rosemary
Salt and freshly ground black pepper, to taste
220 g (8 oz) puff pastry for top of pie
1 egg to glaze
To Serve: fluffy mash; seasonal veg; gravy.
Recipe courtesy of Quorn.
Everyone loves a good steak . . . even when it's not made of steak!
Give this recipe for Quorn Vegetarian Steak Strips, Ale And Mushroom Pie a try, and we guarantee you won't be able to tell the difference.
Method:
Pre-heat the oven to 200 deg. C., 400 deg. F., Gas Mark 6.

Heat oil in a frying-pan, add the onion, carrot and celery and fry gently for 2 to 3 minutes until softened and starting to brown, then add the mushrooms and the garlic and continue to cook for a further 3 minutes until the mushrooms have softened. Toss in the Quorn Vegetarian Steak Strips and stir all of these ingredients together.

Add the brown sugar and cornflour and continue to cook gently for a minute, then add the pale ale, crumbled stock cube, tomato purée, yeast extract and herbs.

Simmer gently for 5 minutes until the sauce is thickened and bubbling. Season to taste. If the sauce is a little too thick, add




2 tablespoons of water.

Place the steak and mushroom filling into an ovenproof dish. Moisten the edges of the dish with a little beaten egg, cover with puff pastry, trim the edges and glaze with a little more beaten egg. Pop into the oven for 20 minutes until the pastry is golden.

Serve with mash, gravy and your selection of seasonal vegetables.
For more delicious recipes from "The People's Friend", click here. If it's vegetarian recipes you're interested in, we can also recommend this fabulous Mixed Bean Casserole.
If you can't get to the shops just now for your "Friend", subscribe now by clicking here. This will mean your "Friend" will come straight to your doorstep! 
You can also take out a digital subscription, meaning your issue will come straight to your computer, tablet or phone! And it's great value for money. Click here for more details.