Book Review: "Where The Crawdads Sing"
---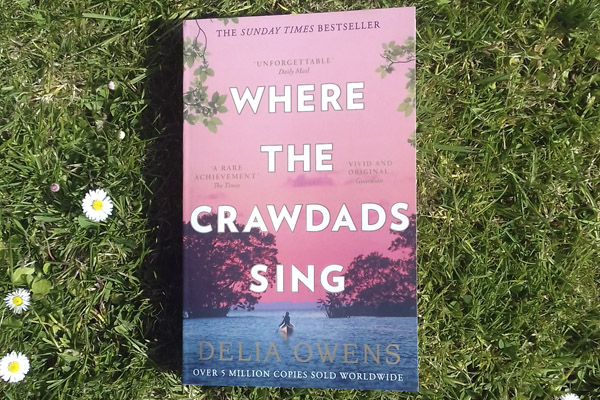 Photograph by Lucy Crichton.
In "Where The Crawdads Sing", Kya Clark lives completely alone on the marsh in Barkley Cove, North Carolina.
She is a sensitive and intelligent girl, grown accustomed to the loneliness that fills her days.
Kya ekes a living by selling oysters to the owner of the local store; his kind wife Mabel supplies her with hand-me-down clothes and shoes.
Abandoned by her family and unable to read, Kya nonetheless becomes an expert in the life of the marsh, collecting and documenting in her own way.
She's befriended by Tate. He's a slightly older boy, who eventually teaches her to read and to make notes to accompany her paintings of marsh life.
Tate and Kya grow closer, but must part when he leaves to study.
Which is when the handsome Chase Andrews comes into the picture.
Quite unlike anything else I've read
A popular and well-to-do local boy, Chase finds Kya intriguing. When his body is discovered in the swamp, the locals immediately suspect Kya.
Will it be possible for reclusive Kya to prove her innocence? And can she find happiness with Tate, or must she be content to be always alone?
The story travels through Kya's childhood in the 1950s, through her teenage years in the 1960s, and up to the murder trial in 1970. The chapters bounce between the years, but it's never discombobulating, running smoothly between the chapters of her life.
This is such a gentle book, quite unlike anything else I've read.
Author Delia Owens has co-authored three books about her life as a wildlife scientist in Africa, and is a recipient of the John Burroughs Award for Nature Writing. This interest shines though, as her nature writing is just lovely.
The New York Times Book Review on the back cover says this is, "At once a murder mystery, a coming-of-age narrative and a celebration of nature", which summarises it perfectly. A lovely read.
As we're still in lockdown, I ordered my copy of "Where The Crawdads Sing" from Blackwells.
They offer free delivery, and I can recommend their service.
For more book reviews from the "Friend" team, click here.