Knitting Preview: July 4, 2020 Issue
---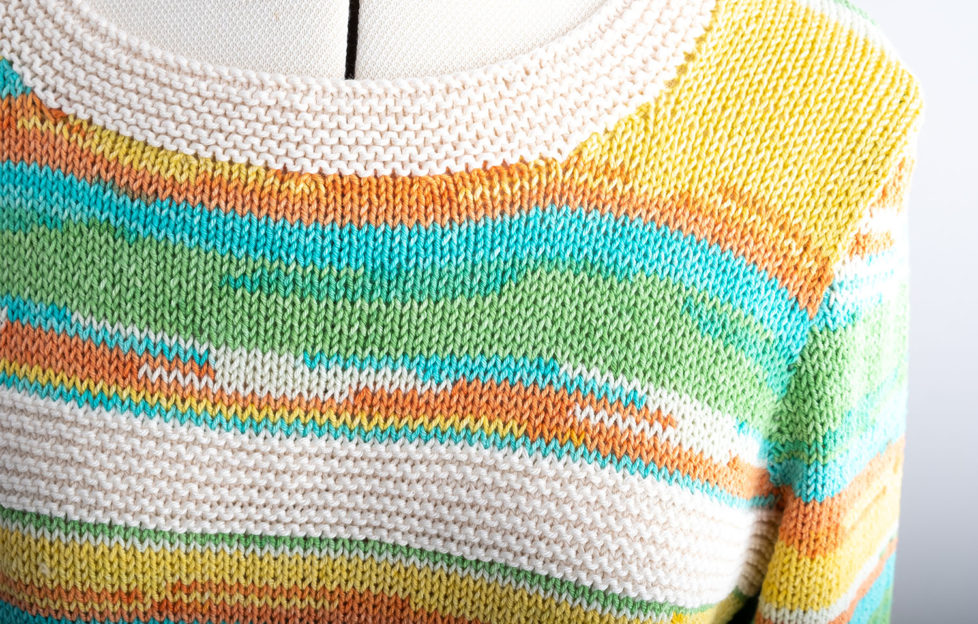 Photograph by Ally Stuart.
Welcome to our sunny and bright knitting preview, with this sunny and bright summer top!
We have chosen Stylecraft Regatta DK for this top, which creates an explosion of colour in contrast to the plain bands worked in Stylecraft Classique Cotton DK.
Yellow, orange, coral, turquoise, green and white are all to be found in this multi-tonal yarn made with 74 per cent cotton for a comfortable feel. The shade is Skipper (1742) and there are another five shades available if you prefer a different combination.
The cotton bands are in Ivory (3665) and there are around 30 alternative shades on offer. Find out more about both yarns and your nearest stockist at www.stylecraft-yarns.co.uk.
Instructions are given for six sizes ranging from 76/81 cm (30/32 ins) to 127/132 (50/52 ins). Actual size is around 10/5 cm (4/2 ins) bigger. If you are the larger size in the pairing and want a looser fit, consider knitting a size up.
This design is suitable for the inexperienced knitter as it is worked in stocking-stitch (knit one row, purl on row) with garter-stitch (knit every row) bands in the other yarn. This gives a nice contrast in colour and texture. It will also knit up nice and quickly.
So why not add a splash of colour to your summer wardrobe?
Knitting preview piqued your interest? Click here for more great content.
Or you can subscribe to "The People's Friend" here. That way you'll never miss another one of our great patterns and projects!
A digital subscription means you can download every issue straight to your laptop, tablet or phone. Click here for more details.