Beef And Red Pepper Burgers
---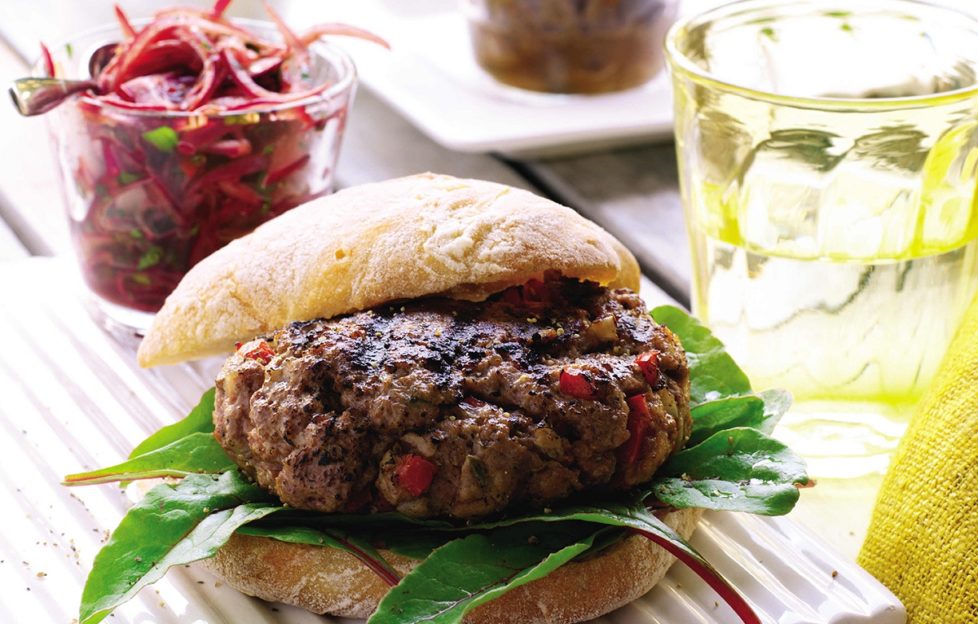 Image courtesy of Simply Beef and Lamb.
Ingredients
450 g (1 lb) lean beef mince
1 small onion, peeled and grated finely
1 clove garlic, peeled and crushed
1 small red pepper, deseeded and diced finely
½ tsp dried mixed herbs
2 tbs barbecue or sweet chilli sauce
25-50 g (1-2 oz) fresh breadcrumbs
Salt and freshly ground black pepper, to taste
1 egg, beaten
1 tbs sunflower or vegetable oil
To Garnish: salad leaves.
To Serve: ciabatta rolls; relish of choice.
Recipe courtesy of Simply Beef and Lamb.
We're getting into barbecue weather now (except for today . . . ), which makes it the perfect time to share this simple recipe for Beef And Red Pepper Burgers.
(Barbecue is optional!)
Method:
Place the minced beef in a large bowl. Add the onion, garlic, red pepper, herbs, barbecue or sweet chilli sauce and breadcrumbs.

Add the seasoning and egg. Mix together thoroughly, cover and refrigerate for 30 minutes.

Pre-heat the grill to moderate.

Using damp hands shape the mixture into 4-6 evenly sized burgers.

Brush the burgers with a little oil and cook on the pre-heated grill for 4 to 6 minutes on each side, or until cooked through and any meat juices run clear.

Serve the burgers in ciabatta rolls garnished with salad leaves with a large spoonful of relish.
For more delicious recipes from "The People's Friend", click here. If it's burger recipes you're interested in, try these Proper Piri Piri Chicken ones!
If you can't get to the shops just now for your "Friend", subscribe now by clicking here. This will mean your "Friend" will come straight to your doorstep! 
You can also take out a digital subscription, meaning your issue will come straight to your computer, tablet or phone! And it's great value for money. Click here for more details.