Writing Prompt Story Starter: Hotel
---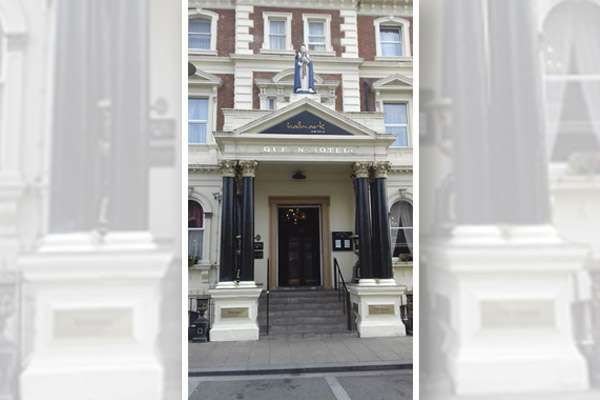 Photograph by Lucy Crichton.
Why have I picked a hotel for this week's story starter?
Well, normally, around this time of year, schools here in Scotland would be breaking up for the summer holidays.
Two or three weeks later, schools in England and Wales would be going through the usual routine of sports days and prize giving ceremonies, with many families looking forward to a well-earned break.
Perhaps in a hotel here in the UK, or abroad.
The situation is different this year, due to coronavirus. Although there are signs that things are returning — tentatively — to a more normal state of affairs, holidays may look slightly different for some time to come.
However, we try to think positively here at the "Friend".
This hotel is one my younger daughter and I stayed in last year, on a mini-break to lovely Chester.
Adjacent to the railway station, it's in the traditional style of a Victorian railway hotel. Back in the day, Charles Dickens was a regular guest.
Will it inspire you?
Your story could be set in or around a hotel here in the UK, or elsewhere. Five stars; no stars; everywhere in between.
Old hotels, traditional Victorian buildings, often built in the railway's heyday. Lovely chandeliers, grand staircases, and genteel reading rooms.
People who work hard to make our hotel stays pleasant. On reception; in the kitchens; porters, and cleaners.
Guests. Famous, and not so famous. People who live in hotels on a permanent basis — Giuseppe Verdi; Peter Sellers; Tennessee Williams; and Coco Chanel (at the Ritz!).
The railway, making travel more accessible to Victorian families.
Checking in; unpacking; the dainty tea and coffee making facilities. It's the little things that make stays memorable!
Travelling there. Planning a hotel holiday. Or staying for another reason. A conference, perhaps, or a wedding?
Enormous, difficult-to-lose key fobs replace by swipe cards. Holidays moving with the times.
Might a hotel be a good setting for a series, or a serial?
Over to you!
For another Story Starter, click here to browse our archive.