Book Review: "Hamnet" By Maggie O'Farrell
---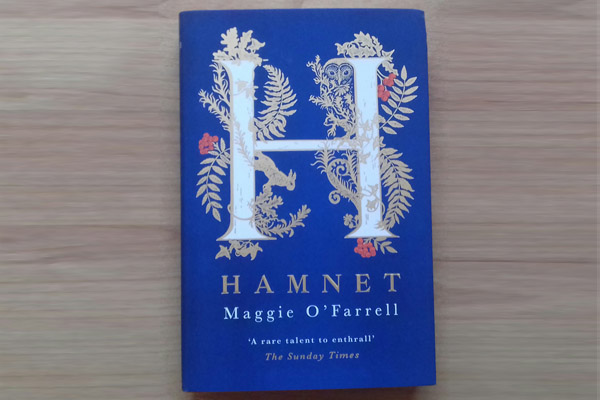 Photograph by Lucy Crichton.
In the old days, the names Hamnet and Hamlet were interchangeable.
Maggie O'Farrell's fascinating novel is the story of a boy named Hamnet, who was born in 1585, and who died at the age of eleven in 1596.
He was a loved son, a twin, and a little brother; a grandson, a nephew, and a scholar.
Hamnet and his family lived in Stratford, Warwickshire. His mother was a grower of medicinal herbs, a healer, a bee-keeper, and keeper of a kestrel; his father was a playwright, living between Stratford and London.
The book begins on a "close, windless day in late summer". Before we even reach the end of the first page, we're firmly in Hamnet's world, the world of an extended family living in England at the end of the 16th century.
Hamnet's twin sister, Judith, is unwell with a fever. Finding that they are alone in the house, Hamnet sets out to find an adult to help. But he can't find anyone. Where have they gone?
And so the story unfolds. We learn of Hamnet's parents — Agnes, and the Latin tutor. Or the husband. The father. Someone referred to by many names, perhaps to avoid shifting the focus of attention from his son.
We learn of the parents' courtship, and marriage. The husband's depression. Living in the shadow of a bullying father. The extended family come to life, as Hamnet's grip on life begins to falter.
To be a parent, and to feel afraid. To feel hope, and grief, and love. What it is to be human. O'Farrell expertly captures it all here. Which one may say is exactly what the Latin tutor managed to capture in his work, and why we still love and relate to it today.
An absolutely superb book
This year has given us two extraordinary works of historical fiction – "The Mirror And The Light", and "Hamnet". Both breathe new life into very old stories, and into the characters they're written around.
It's an absolutely superb book, full of wonderful writing, warmth and extraordinary empathy for the characters.
There are stages of grief, they say, and this book gently walks alongside the family as they navigate those stages until finally, peace seems possible.
I'd like to recommend this book to you, and can also recommend two earlier books by Maggie O'Farrell: "The Vanishing Act Of Esme Lennox", and "Instructions For A Heatwave".
For more on "Hamnet", click here. 
For more book reviews from the "Friend" team, click here.