Knitting Preview: July 18, 2020 Issue
---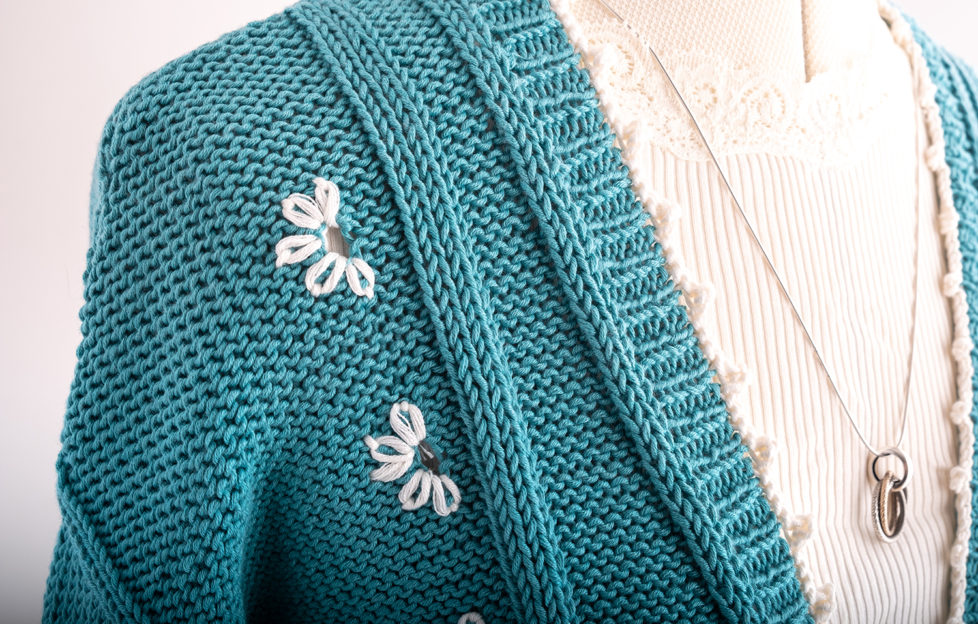 Photograph by Ally Stuart.
This week's knitting preview will leave you feeling cool and fresh — just like this lovely embroidered cardigan.
This garment is the perfect choice for summer. It comes in six sizes ranging from 76/81 cm (30/32 ins) to 127/132 (50/52 ins). Actual size is approx.12/7 cm (4½/2½ ins) bigger, so we would recommend you make your usual size.
The yarn we have used is King Cole Bamboo Cotton DK in shades Sea Breeze (3331) and Cream (538). It is a mix of the natural fibres bamboo viscose and cotton. If you would like to find out more about the yarn and the shades available, or want to find your nearest stockist, visit www.kingcole.com.
The lovely matching buttons are from Duttons For Buttons. You can browse their range at www.duttonsforbuttons.co.uk.
We have graded this design as intermediate. There is nothing too tricky but you do need to work an eyelet (for centre of flower) every 26 rows on both fronts and there is a picot edging, worked at the cast off.
Don't worry if you have never embroidered before, we've included a diagram showing how to work a daisy stitch with the instructions.
Whether you decide to go smart or casual, this is the cardigan to see you through the warmer weather.
Knitting preview piqued your interest? Click here for more great content.
Or you can subscribe to "The People's Friend" here. That way you'll never miss another one of our great patterns and projects!
A digital subscription means you can download every issue straight to your laptop, tablet or phone. Click here for more details.