Working From Home: The Story Card Box
---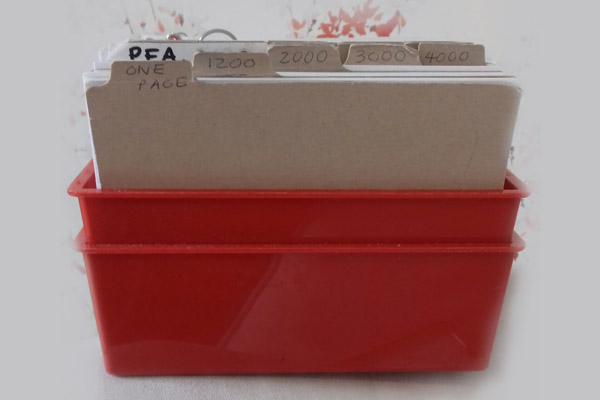 Photograph by Lucy Crichton.
We've now been working from home for four months.
When we first left the office, I brought everything I thought I'd need to be able to work from home.
My laptop, of course. Manuscripts from authors with an assigned Editor ("the Story Drawer", as it's known in the office). Copy schedules, address books, post-it notes . . . plenty of stationery!
But the thing that has proved most crucial in helping us keep business as usual is an unassuming, little red box, full of little white story cards.
And it's helped ensure that stories have kept flowing through to our Production team during the weeks and months we've been away from the office.
What's in the box?
As soon as Editor Angela approves a story, and before we even arrange for it to be paid, we make a story card up for it.
It basically contains all the information we need to keep track of each story from when it's purchased, until it goes to Press.
We include the name of each story and the author, plus a pen name if applicable. The word count is there, as is the genre, and time of year it would be most suitable for.
We then write up a short summary of the story. Just two or three lines, but enough to jog a memory if it's a while since the story's been read!
There's space for details of the illustration, plus details of all payment amounts and codes. We can add those in due course, double-checking that everyone has been paid and that each payment is accurate.
Each illustration also has a code, so we can locate it quickly in our Artwork Archive.
Sub-divided
The story cards are split into Page Stories, 1200 words, 2000 words, 3000 words, 4000 words and Long Reads.
There's an area at the back for the Annual, and one for Christmas stories.
This means we can see at any one time what's available for use in our "Friend" publications. And it also helps make sure a story is never placed more than once.
As soon as a story is given a slot, the card is removed from the box, and updated with a published title once that's available.
Story cards online
While we're working from home, each member of the Fiction team makes up a "virtual" story card on our system, which I then copy onto an actual card.
It helps us keep track of everything, and make sure it's business as usual as far as our authors' and illustrators' payments go,
Brilliant, but simple!
In fact, there's just one problem . . . I'm starting to run out of blank story cards!
For more from Lucy, read her blog here.
Have you read our fantastic Daily Serial? "The Dividing Tide" is a historical saga set in a Cornish fishing town, which explores the choices we face when it comes to what is best for ourselves and our loved ones . . .
Click here to catch up from the beginning!