Editor's Diary: In Praise Of Posties
---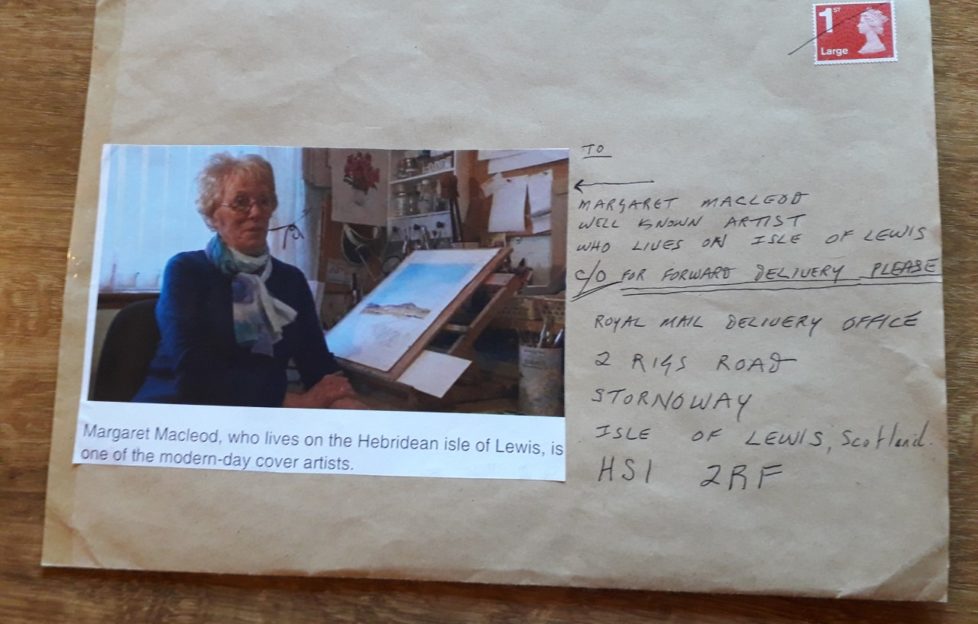 Photograph by Angela Gilchrist.
In this week's Editor's Diary, I've been thinking about our posties.
The news has been full of stories of keyworkers for months now, and rightly so. These heroes keep us healthy, safe and fed. We simply couldn't have survived lockdown without them.
But an incident this week reminded me of the fabulous contribution made by our postal workers, too.
It started with a phone call from Manon, our Illustrations Editor. She told me that one of our illustrators, Margaret MacLeod, had asked if I would phone her.
Margaret had been trying to reach me without success. The joys of working from home in rural Fife, where phone signals leave a lot to be desired!
Long-time readers of this diary might recall that Margaret lives on the Isle of Lewis. I visited her there last year while on a tour of the Outer Hebrides.
The story she told me was fascinating. She had received an envelope through the post with the following address:
To Margaret MacLeod, Well-known Artist who lives on the Isle of Lewis, c/o Royal Mail Delivery Office, Stornoway.
The sender had helpfully pasted next to this an image of Margaret printed off from a website story about our 150th anniversary.
Remarkably, it got to Margaret.
We had a giggle wondering how the conversation in Stornoway sorting office had gone . . .
She then posted it on to me in rural Fife to follow up.
Anniversary gift
Inside was a letter from long-time "Friend" reader Mrs J.J. of Staffordshire.
Her attempts to contact the "Friend" office had failed — not surprising, as we are still working from home. So, ingeniously, she recalled just enough information about Margaret to enlist her help.
Mrs J.J. was eager to obtain a copy of a "Friend" cover painting as a surprise gift for her husband on their 40th wedding anniversary.
It depicted his much-loved childhood haunt, where he played as a boy.
It's not a service we're usually able to provide. But, on this occasion, thanks to the wonders of modern technology, Manon was able to oblige.
And Mrs J.J. was thrilled. She wrote me a lovely e-mail by way of thanks:
These last few months have been difficult to say the least but "The People's Friend" has continued to provide solace and sanity  – and a semblance of normality! Keep up the good work and the excellent standards of journalism. Many thanks again and stay safe.
A happy reader — and a lovely story to tell about a postie who went above and beyond!
For more from Angela's Editor's Diary, click the tag below.
To take advantage of our helpful posties and subscribe to "The People's Friend" today, click here.