Knitting Preview: September 5, 2020 Issue
---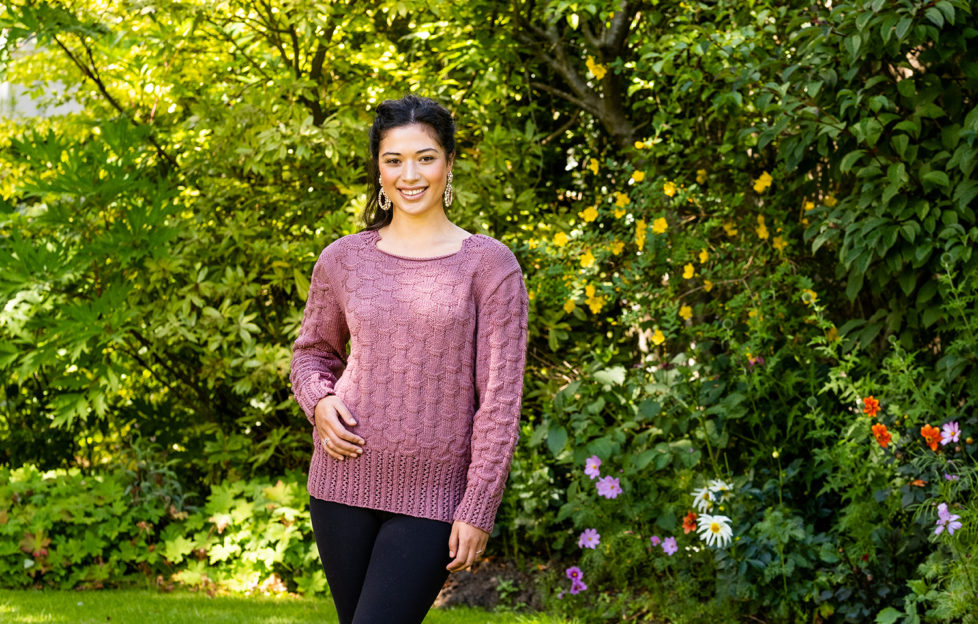 Photograph by Ally Stuart.
We are talking texture in this week's knitting preview, thanks to this long-sleeved sweater.
Autumn berries are the inspiration behind this week's shade, Elder (080), and the yarn is the versatile Rico Design Essentials Merino DK.
This 100% merino wool is soft, smooth and has a light and springy structure, making it both beautifully warm and kind to sensitive skin. You can find out more about the yarn and alternative shades, and order directly from www.ethelandem.com.
The textured pattern is worked over the entire garment and is created over a 14-row, 16-stitch pattern.
The pattern contrasts with the unusual lace rib, formed over a 4-row repeat.
We have eight sizes available, ranging from 81 cm (32 ins) to 117 cm (46 ins). Actual size is around 15 cm (6 ins) bigger offering a comfortable fit.
The most distinctive feature on this sweater is the shaped neckline. Work this with a circular needle once the garment is complete and consists of eight rounds.
This sweater is the ideal garment to see you through the change of seasons. We love it and hope you do, too.
Knitting preview piqued your interest? Click here for more great content.
Or you can subscribe to "The People's Friend" here. That way you'll never miss another one of our great patterns and projects!
A digital subscription means you can download every issue straight to your laptop, tablet or phone. Try it today.