World Food Day: Lamb Panzanella
---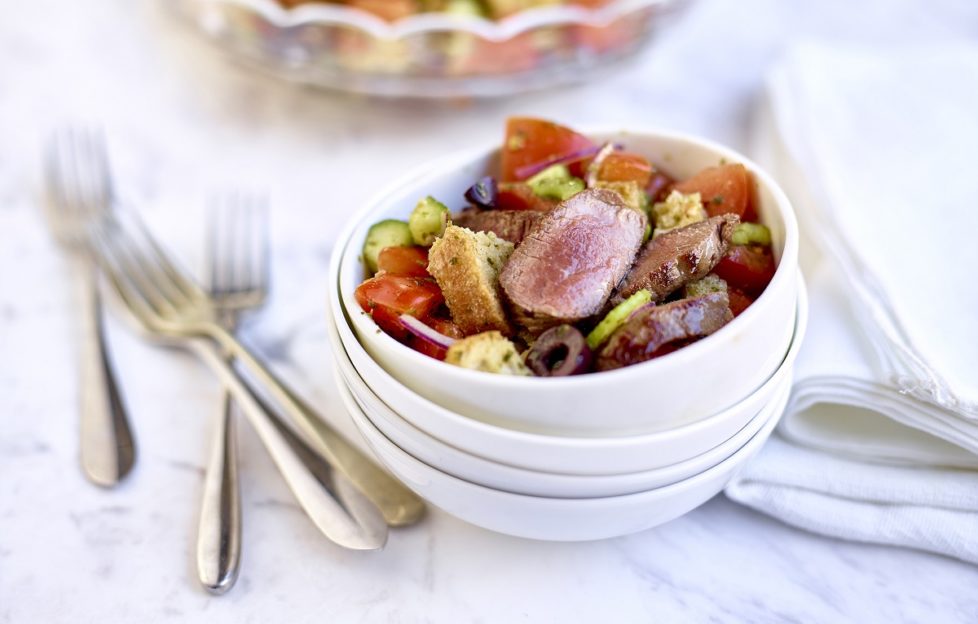 Ingredients
3 to 4 tbs pesto (or tapenade)
10 tbs rapeseed or olive oil
6 tbs sherry vinegar
Salt and freshly ground pepper, to taste
100 g (3½ oz) baguette or ciabatta, preferably a day old and cut into bite-size pieces
6 tomatoes, halved and deseeded
2/3 of a cucumber, deseeded and diced
2 sticks of green celery, sliced
2 tbs capers and/or black olives
½ red onion, sliced
500 g (1 lb 2 oz) lamb leg steaks or 400 g (14 oz) lamb fillet
Inspired by World Food Day and the campaign to reduce food waste in our loves, we thought we'd share this recipe for Lamb Panzanella.
It's a great way to use up some stale bread you would otherwise be throwing out. And it's tasty, too!
Method:
Mix the pesto or tapenade, 8 tablespoons of the oil and the vinegar in a mixing bowl. Season to taste.

Place the remaining ingredients, except the oil and lamb, in the bowl. Cover and leave to rest.

During this time, brush the slices of lamb with remaining oil and place in a hot frying-pan.

Cook for 6 to 8 minutes on each side. Season and leave to rest for 2 minutes. Slice the meat into strips and add it to the panzanella.

Serve immediately.
For more ideas for reducing food waste in your cooking, take a look at our recipe pages. You could make toasties, for example!
And, looking back through our archives, it seems the "Friend" has always had good advice in this area . . . here's what we said about leftovers all the way back in 1874!
---
For more on World Food Day, click here.
For more fantastic features from "The People's Friend", click here.