Hyderabadi Biryani With Quorn Pieces
---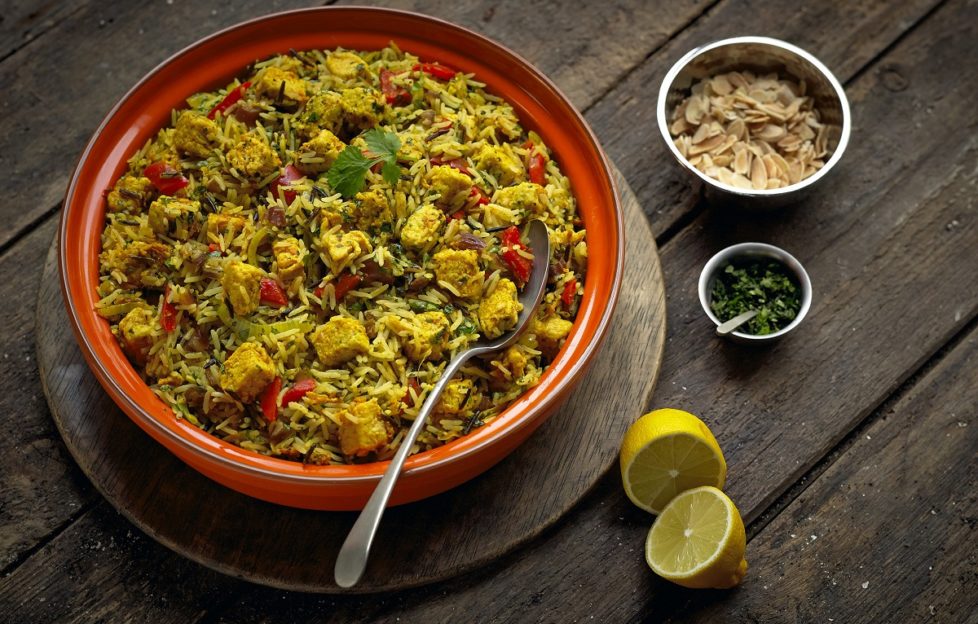 Image courtesy of Quorn.
Ingredients
300 g (10½ oz) Quorn Pieces
1 medium onion, sliced
1 red pepper, diced
1 tsp turmeric
1 red chilli, diced
300 g (10½ oz) mixed basmati rice, soaked in cold water for 10 minutes, drained well
1 lt (1¾ pt) hot vegetable stock
1 stick of cinnamon
1 lemon, juice and zest
80 g (3 oz) dates
Salt and freshly ground black pepper to taste
1 large bunch of fresh coriander leaves, chopped finely
1 small bunch of fresh mint, chopped finely
For the Marinade:
2 tbs rapeseed oil
2 tbs good quality korma paste (for a stronger, spicier flavour, you could use a good quality tikka or a jalfrezi paste)
3 cloves garlic, crushed
1 tbs root ginger, grated
To Serve: toasted almonds.
Recipe courtesy of Quorn.
National Curry Week may be over, but that doesn't mean you can't still enjoy this delicious Hyderabadi Biryani.
And since it's made with Quorn, it's suitable for vegetarians, too!
Method
Prepare a marinade for the Quorn Pieces by combining 1 tablespoon of the oil with the korma paste, garlic and ginger. Stir in the Quorn Pieces, coat well, cover and put to one side.

Pre-heat the remaining oil in a large saucepan and fry the onion for 4 to 5 minutes until beginning to soften. Add the red pepper and cook for a further 5 minutes then stir in the turmeric and red chilli.

Cook for 1 to 2 minutes, then add the Quorn Pieces and fry gently for 3 to 4 minutes until beginning to turn golden brown. Remove from the pan and set to one side.

Add the rice to the pan and stir for 1 to 2 minutes to pick up the flavours then add the hot vegetable stock and cinnamon stick. Cover, bring to the boil then simmer for 14 minutes.

Stir in the Quorn Pieces, onions and peppers, lemon juice and zest and dates. Re-cover then simmer for a further 8 minutes. Add more stock if necessary. Season to taste. Leave to rest for 5 to 10 minutes before serving to allow the flavours to develop and the rice to continue cooking.

To serve, stir in the fresh herbs and top with the flaked almonds and finely chopped mint.
---
Click here for more great recipes from "The People's Friend". We've plenty more curry recipes, like Angela's favourite Chickpea And Ketchup Curry.
If you can't get to the shops just now for your "Friend", subscribe now by clicking here. It means your magazine will come straight to your door every week — all you have to do is put the kettle on!
You can also take out a digital subscription, meaning your issue will come straight to your computer, tablet or phone! And it's great value for money. Click here for more details.