Book Review: "Jack", by Marilynne Robinson
---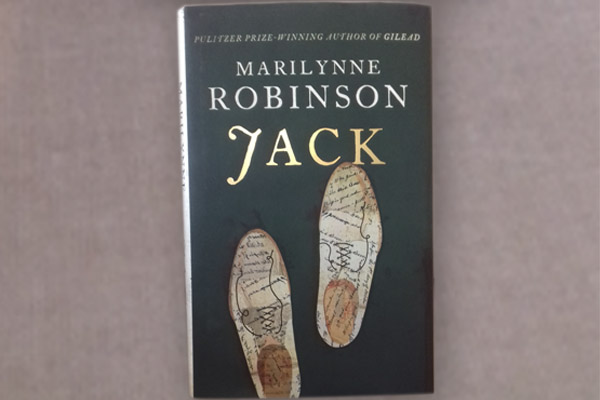 Photograph by Lucy Crichton.
Do you have books that you re-read, time and again?
There's a book that I love, called "Home". I've read it a number of times now, and as often happens when you re-read novels, the characters become almost like family. (Another example is "Brideshead Revisited" — after watching the ITV series as a young girl, I enjoyed the book, and have gone on to "revisit" Sebastian and Charles many times since.)
"Home" is the second in a series of books by American novelist and essayist, Marilynne Robinson.
The first book in the series, "Gilead", tells the story of an old pastor, the Reverend John Ames.
Jack
Written in the form of a letter penned in 1956, "Gilead" is Ames's account of his life and his faith, to be left for his young son. In it, we learn that Ames has a close friendship with another Reverend, Robert Boughton.
Boughton's beloved son, John Ames Boughton, is also known as Jack.
The series' second book, "Home", is Jack's sister Glory's story — she's come back home, after her own personal tragedy, to care for her elderly father.
Jack has also returned, after being forced to leave the home he shares with his wife and son. When his wife doesn't respond to his letters, he attempts suicide, then leaves town, only for her to arrive looking for him two days later.
The third in the series, "Lila", is the story of Reverend Ames' wife, and the struggle of being a woman of colour in Jim Crow-era USA.
"Jack" is the fourth book in the series, set some time before "Gilead", "Home", and "Lila".
So what happens in "Jack" has already been predetermined -— but, appropriately, the series is a little like the gospels, featuring a different viewpoint on the same characters and events. Really they can be read in any order.
The prodigal son
Black sheep Jack is the proverbial prodigal son. A difficult child, he's become a drunk, a thief and a liar. A man with a past, he's done time in jail, and a former relationship remains a source of great sadness to the family.
Like Brideshead's Sebastian, he numbs his loneliness and self-loathing with alcohol, his sadness wearying.
Both men hide from their families; both remain in their family's thoughts, and their prayers. In Jack's case, regular envelopes of cash appear, courtesy of Teddy, one of Jack's three brothers.
Then one day, everything changes. Jack meets Della, who initially mistakes him for a man of the cloth.
A respectable schoolteacher, and also the child of a clergyman, Della risks losing everything to be with him, not least her job and her family, because interracial relationships aren't only frowned upon, they're punishable with imprisonment.
In "Gilead" we learned of Ames's grandfather, an abolitionist; in "Jack", segregation still casts a long shadow.
Family, and faith, love, and grace
The novel's beginning is a little "open" — it's difficult to get a sense of where we are initially. But perhaps that's exactly the point.
What's at the heart of the novel is family, and faith, love, and grace. Trying to make peace with our pasts. Our relationships with our parents. And thought-provoking questions: can a flawed person be redeemed? In the circumstances, does Jack doing his best for Della mean leaving her?
Barack Obama awarded Marilynne with a National Humanities Medal, recognising her "for her grace and intelligence in writing. With moral strength," he said, "Dr Robinson's novels . . . have defined universal truths about what it means to be human."
Marilynne won the Pulitzer Prize for Fiction for the first of the books, "Gilead", and the Orange Prize 2009 for "Home".
Written with warmth and gentleness, wisdom and perception, each book in the series is a beautiful thing.
This is a timely read during Black History Month. I highly recommend it.
---
For more book reviews from "The People's Friend", click here.