Reindeer Bakewell Tarts By Bake Off's Kim-Joy
---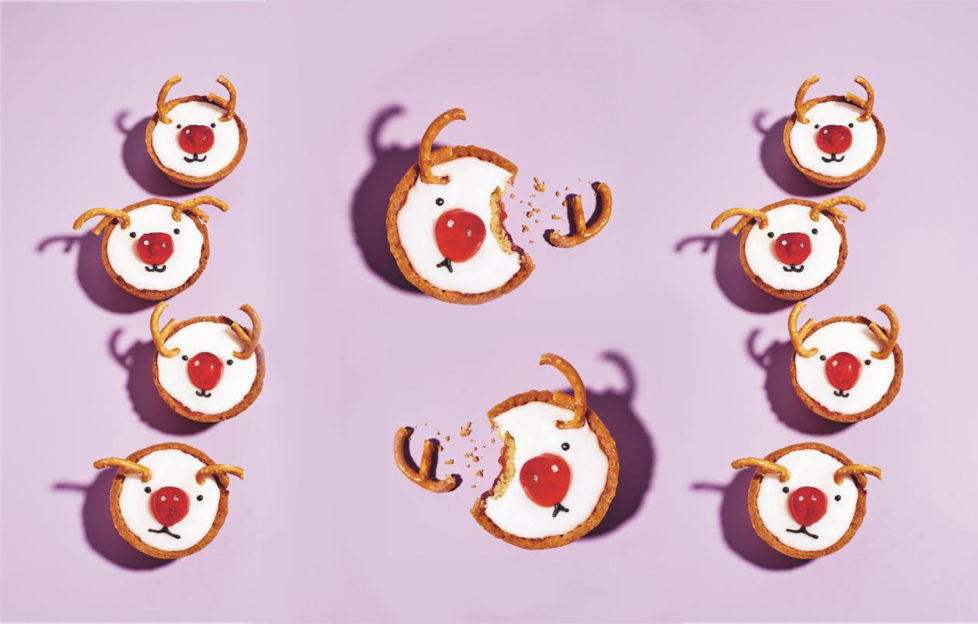 Photograph by Ellis Parrinder.
Ingredients
150 g (5½ oz) salted butter, at room temperature, plus extra for greasing
225 g (8 oz) plain flour (to make gluten free, use gluten-free flour plus ½ tsp xanthan gum), plus extra for dusting
40 g (1½ oz) caster or granulated sugar
1 medium egg
For the Frangipane:
100 g (3½ oz) caster or granulated sugar
100 g (3½ oz) unsalted butter, at room temperature
1 medium egg
¾ tsp almond extract
100 g (3½ oz) ground almonds
4 tbs jam of your choice
For the Icing:
200 g (7 oz) icing sugar, plus extra to thicken
Black food dye
To Decorate:
12 glacé cherries
24 hard pretzels
This season's Great British Bake Off has tackled a few tarts, but we're reaching back into the competition's past to bring you a Reindeer Bakewell Tart recipe from previous contestant Kim-Joy.
The recipe comes from her new book, "Christmas With Kim-Joy", which "Friend" fans may have spotted in our Christmas Special!
Method:
Pastry
First, make the pastry. Grease a 12-hole muffin tray with butter. Add the flour (or gluten-free flour plus xanthan gum) to a large bowl. Chop the butter and add it to the bowl, then rub it into the flour until it resembles fine breadcrumbs. Don't overwork. Stir in the caster sugar. Beat the egg in a separate small bowl, then add 2 tablespoons to the main mixing bowl and stir, gradually combining it with the rest of the mixture. When the egg is stirred through, use your hands to form the pastry into a ball.

Roll out the pastry on a generously floured work surface as thinly as you can and use round cutters to stamp out 12 circles of pastry. Use your fingers to gently guide each circle of pastry into each muffin hole. Prick the bases with a fork 2 to 3 times, then place in the fridge to chill for 20 minutes. At this point, preheat the oven to 180 deg. C., 350 deg. F., Gas Mark 4.

Line the chilled pastry shells with muffin or cupcake paper cases, then fill with baking beads (or you can use lentils or rice) and blind bake for about 15 minutes. Remove the baking beads and paper, then bake for a further 5 to 7 minutes until golden and crisp.
Frangipane
Meanwhile, make the frangipane. Cream the sugar and butter together in a stand mixer (or use a handheld electric whisk) on high speed until light and fluffy. Add the egg and almond extract and mix until just combined. Fold in the ground almonds. Set aside.

When the pastry has finished blind baking, remove the pastry cases from the muffin tray and place on a baking sheet; they should stand up on their own.

Spoon 1 teaspoon of jam into each of the bases, then fill with frangipane, about three-quarters of the way up, as it will rise slightly. Return to the oven to bake for a further 15 to 20 minutes until the frangipane is set.

When baked, transfer the tarts to a wire rack and leave to cool completely.
Icing
Meanwhile, make the icing. Just whisk the icing sugar and 2 tablespoons of water together in a bowl until smooth. Spoon about 1 tablespoon into a separate bowl and add black food dye to colour, plus extra icing sugar to thicken to a pipeable consistency. Transfer to a piping bag, ready for later. Cover the bowl of white icing with plastic wrap.

When the tarts are cool, spoon the white icing over the top and carefully spread to the edges. Place a glacé cherry in the centre, then add the pretzel antlers. Cut a small tip off the black icing piping bag, then use to add eyes and a mouth. Use the back of a spoon to add a dot of white icing to the cherry nose to give it depth.
Kim-Joy's tips for success
I used a cupcake tray in which each hole is 7.5 cm (3 in) across, so I used a 10-cm (4 in) cutter for the bases and a 7.5-cm (3-in) one for the lids, but if you have a larger tray, then use larger cutters.
The trick with these is to make sure your pastry is elegantly thin, and blind baking is a must.
Be careful not to overwork the pastry, and take this recipe one step at a time, as all will be right as rein.
---
For more tasty recipes from "The People's Friend", click here. Our only try at tarts to date is this Tomato, Mozzarella And Basil Puff Pastry one!