Book Review: "His Bloody Project" By Graeme Macrae Burnet
---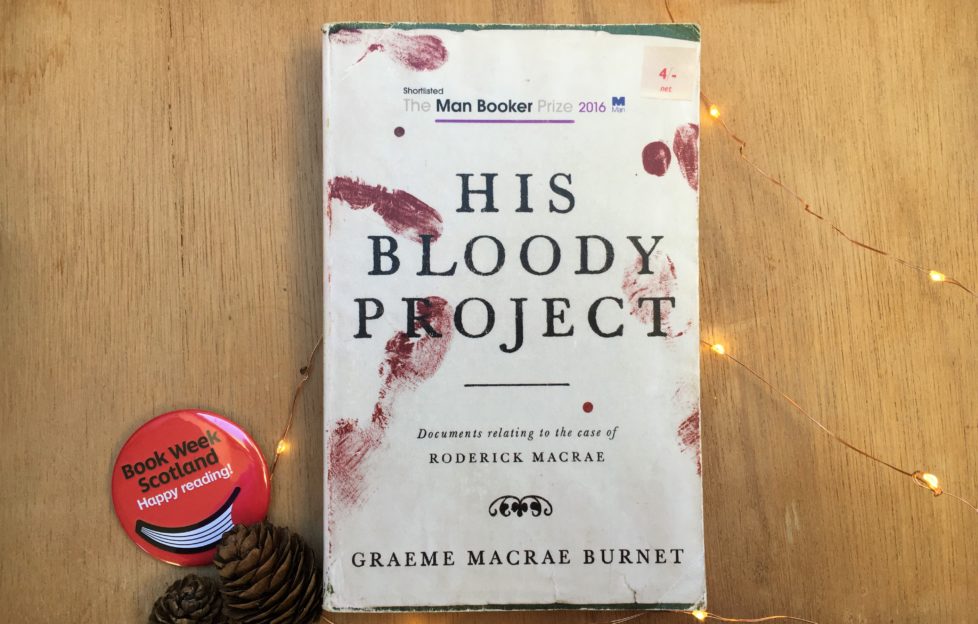 Photograph by Kirsty Souter.
One of my favourite reads of 2020 was a uniquely Scottish tale from Graeme Macrae Burnet, "His Bloody Project".
The Man Booker shortlisted novel was one I'd seen around for years, and picked up and put down several times in second-hand shops. It was only a baffled review from one of my friends, who swore blind it was non-fiction, which really cinched it for me.
"His Bloody Project" is a fascinating piece of historical literary crime fiction — a really well done "why-dunnit". Three people are murdered in a small Highland community, and the accused murderer has written a deposition that says that he is unequivocally guilty.
But is that really the case?
He does not shy away from the events of the murder
The novel opens first with a preface from the "editor" of the piece. It explains the historical background of the memoir of seventeen-year-old Roderick Macrae, and the topology and nuance of relationships in the remote community where the murder took place. In almost excruciating historical detail.
There follows a series of eyewitness accounts of the events leading up to the murder. And of Roderick himself — who by all accounts is a quiet, odd character, but not one that all people expected to go on a murder spree.
In fact, we discover he's quite bright, for all his eccentricities. We also find out more about his strange, religious father
We also meet one of our victims, Lachlan Mackenzie. He's a character that the eyewitness accounts seem to have very little sympathy for.
The account of Roddy himself is where things get interesting.
He does not shy away from the events of the murder. In fact, we are treated to a long lead-up to the eventual crime, getting to know the tensions in the small community of Culdie. There is a long-standing feud between Roderick's father and the Mackenzies, and Roderick's unrequited love for Flora Mackenzie is a lot less graceful than any sort of "Romeo and Juliet" scenario.
Though it will have just as tragic an end.
Things really kick up into overdrive when Lachlan Mackenzie is appointed factor, and he seems determined to have the Macraes ousted from their croft.
After reading the account of Roderick, we get an account from a doctor who specialises in "lunacy". He travels with Roderick's lawyer to Culdie to interview the townsfolk more about the suspect's mental state.
Finally, we get a full account of the very high-stakes trial, seemingly pieced together via contemporary newspaper reports.
I could fully understand how you could get mixed up
To the uninitiated, like my friend, I could fully understand how you could get mixed up.
Burnet writes each different part of the novel superbly well, and very realistically. That might make you worried that there's an element of "dry" or "confusing" to the narrative, but I don't think so at all.
Each different "style" used in the novel reflects its author. You get a taste of their own personal biases and motivations.
The doctor's report was probably my favourite, because he came off somewhat snotty and obnoxious, and it's a distinct change from the memoir section it follows.
For some people, it might seem a little too much work to plough through. But I will say that the more I got into the wee details of the novel, the more I was excited to see how it'll all turn out.
It's rather strange, as it's not a high-octane thriller but it is very gripping. Surprisingly so.
The style of the novel really helps to build the idea that even the most cut-and-dried crime has an element of nuance. Especially when each one of your narrators is as unreliable as these.
You see each angle of the case, and of Roddy Macrae, and you go back and forth between how you feel about the events as they unfold.
It feels almost interactive, in a strange way!
---
Click here to find "His Bloody Project" on Bookshop.org.
For more book reviews from the "Friend" team, click here.